---
| | |
| --- | --- |
| | |
Centre Context
Water is essential for human existence, indeed for life's beginning. The deep circulation of water and other fluids lubricates the deep-seated dynamics that keep Earth geologically alive, and its surface habitable. Several oceans' worth of water may be present inside Earth, and the exchange of water and other fluids between the surface and the deep interior plays a crucial role in most Earth systems, including the evolution of the surface and the hydrosphere/atmosphere/biosphere.

Until recently, a real understanding of the workings of Earth's deep plumbing system (from the surface to 3,000 km depth) has been tantalisingly out of our reach. Now, rapid advances in geophysics are producing stunning new images of physical properties such as seismic velocity and electrical conductivity in the deep Earth, but interpretation of these images requires new kinds of data on deep-Earth materials, and especially on the effects of deep fluids and their circulation. The CCFS CoE will integrate previously disparate fields - geochemistry, petrophysics, geophysics and numerical and thermodynamical modelling - to reach a new level of understanding of Earth's dynamics and the fluid cycle(s) through time.
---
Links
IN THE MEDIA - CCFS paper finds what may be the 2 billion-year-old birthmarks of Earth's first supercontinent in northern China View The Conversation article here.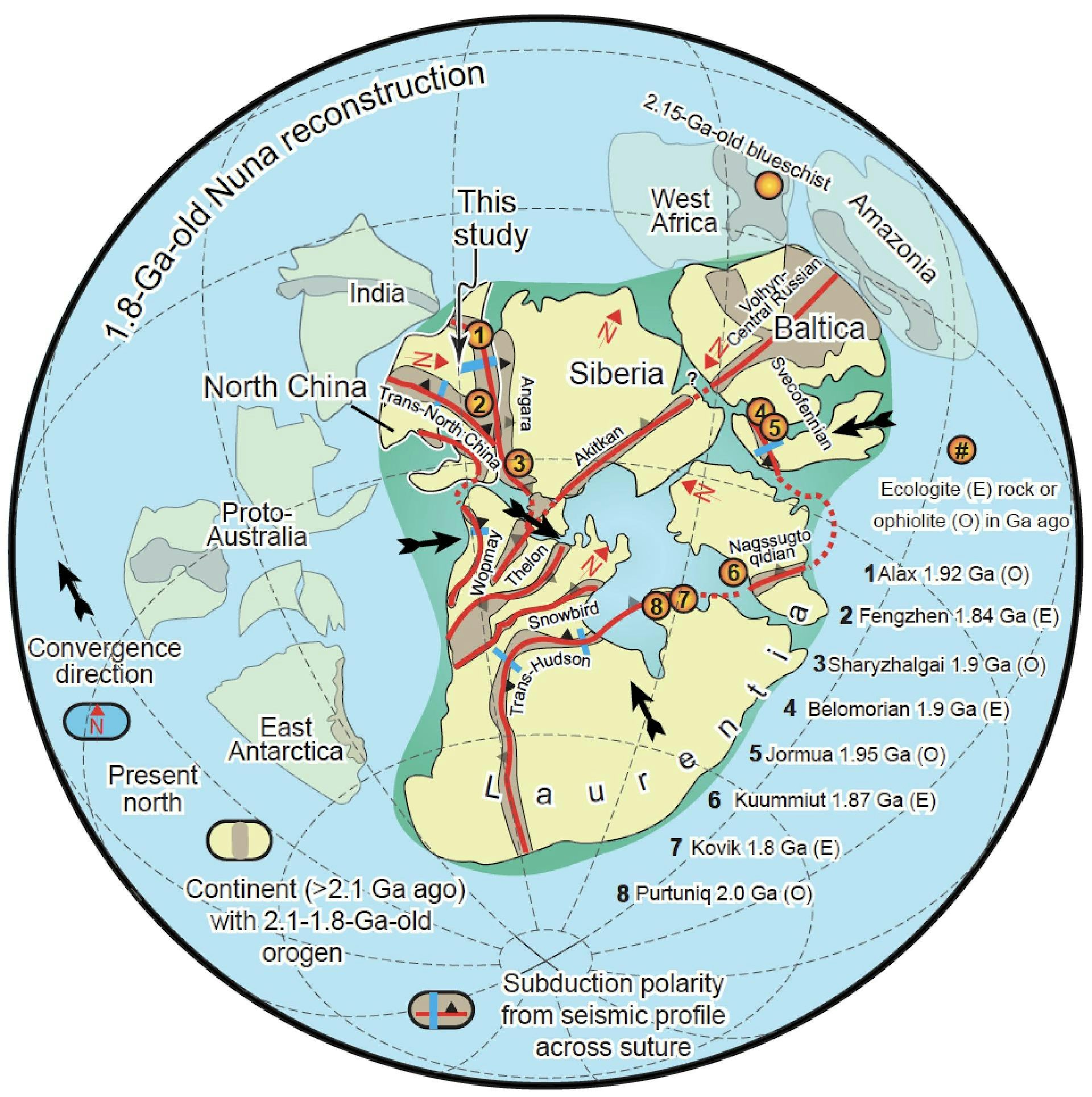 ---
CCFS publication published in Geostandards and Geoanalytical Research among the top 10% most downloaded papers!
Gain, S.E.M., Greau, Y., Henry, H., Belousova, E., Dainis, I., Griffin, W.L. and O'Reilly, S.Y. 2019. Mud Tank Zircon: Long-term evaluation of a reference material for U-Pb dating, Hf-isotope analysis and trace-element analysis. Geostandards and Geoanalysis, 43, 339-354. View the article here.
---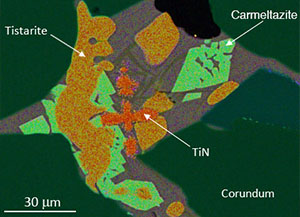 The IMA Commission on New Minerals, Nomenclature and Classification has chosen
carmeltazite
as its Mineral of the Year 2018. Carmeltazite was discovered in pockets of trapped melt in corundum xenocrysts from the Cretaceous Mt Carmel volcanics of northern Israel by CCFS's Bill Griffin, Sarah Gain, Luca Bindi (Università degli Studi di Firenze, Italy), Vered Toledo (Shefa Yamim Ltd., Israel), Fernando Cámara (Università degli Studi di Milano, Italy), Martin Saunders (UWA) and Sue Y. O'Reilly. Read more about carmeltazite
here.
---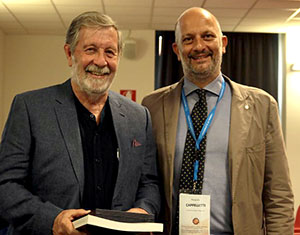 Congratulations to CCFS's Bill Griffin who was made an Honorary Fellow of the Italian Society for Mineralogy and Petrology (SIMP), at their annual meeting in Parma in September. The award was given "in recognition of internationally relevant scientific and organizing contributions to the advancement of the Mineralogical Sciences and an invaluable support to strengthen the scientific relationships between the nominee's country and Italy". (pictured with Piergiulio Cappelletti, President of SIMP).
---
Congratulations to CCFS's Bill Griffin, named 'Australia's Most Influential Researcher' in the field of Geochemistry and Mineralogy by The Australian 2019 Research Magazine. More here.
---
IN THE MEDIA - CCFS paper provides direct evidence of 3.5-billion-year-old microscopic life. View article here.
---
IN THE MEDIA - CCFS's Kate Selway talks to ABC's Robyn Williams about measuring the Earth's crust in Greenland... and avoiding Polar Bears! Listen here.
---
IN THE MEDIA - ABC NEWS - Professor Stephen Foley commented on a "Science" article using Helium 3/4 ratios in super deep diamonds to confirm the existence of a primordial reservoir. Read the article here.
---
Women in STEM Decadal Plan launched at Parliament House by the Minister for Industry, Science and Technology, Karen Andrews. Read more here.
---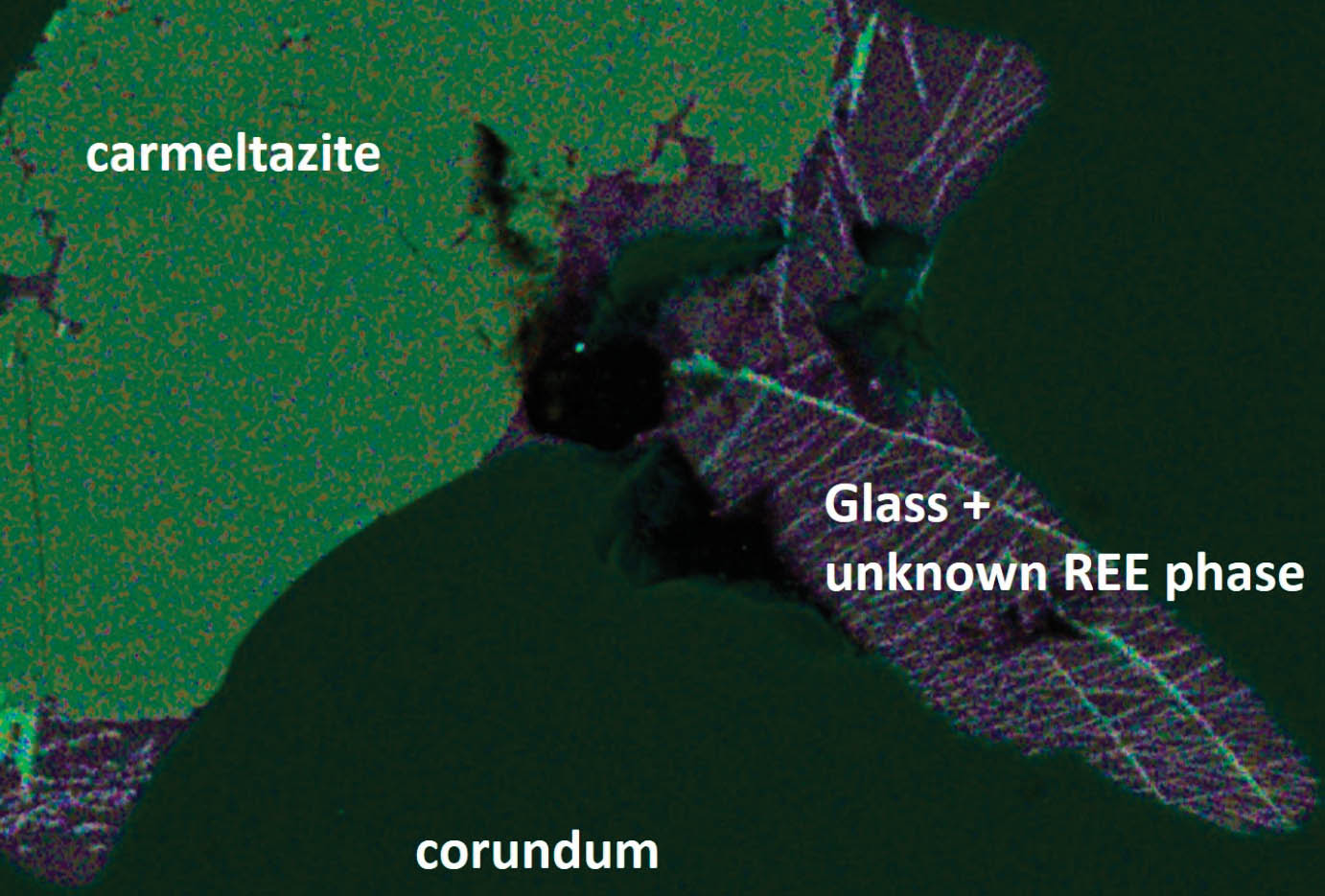 Industry collaboration between Shefa Yamim and CCFS Team results in new mineral discovery. Read more here.
---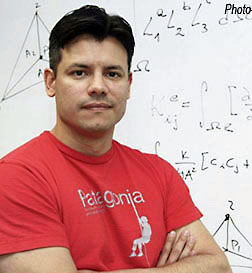 Congratulations to CCFS's Juan Carlos Afonso, who is the recipient of an IUGG Early Career Scientists Award. The award will be presented at the XXVII General Assembly of the IUGG, Montreal, Canada, July 2019.
---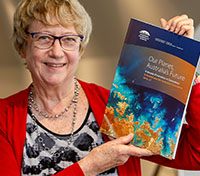 The Australian Academy of Science (AAS)
Decadal plan for Australian Geoscience
prepared by the AAS National Committee for Earth Science, chaired by Sue O'Reilly, was successfully launched to significant media attention. See press release, photos and media links
HERE.
---
Congratulations to CCFS's Yongjun Lu, who is the recipient of the SEG Waldemar Lindgren Award for 2018.
---
Congratulations to CCFS's Professor Stephen Foley, who was awarded the prestigious ARC Laureate Fellowship. Steve will give the 'GSA Ringwood Medal Lecture' Keynote at the upcoming AGCC Meeting.
---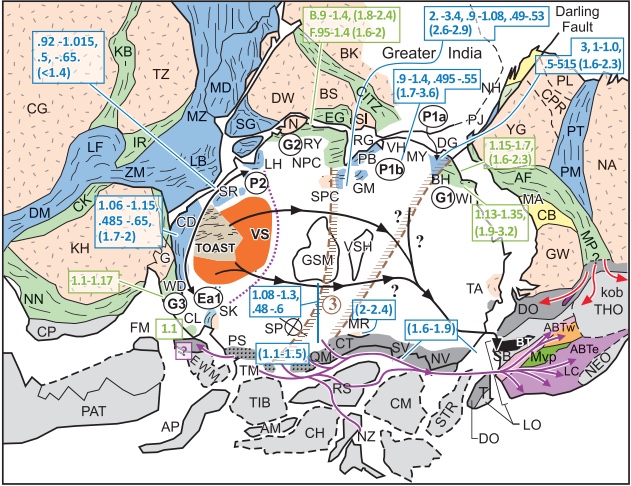 Dick Glenn (with co-authors Ian Fitzsimons, Bill Griffin and Ayesha Saeed) received The Stillwell Award - The best paper of the year as judged by the editorial board of the Geological Society of Australia. View the article here.
Goldschmidt Virtual 2020 was held on 21-26 June 2020. See abstracts here,/p>
---
AGU Fall meeting, Online Everywhere, 1- 17 December 2020 See Conference page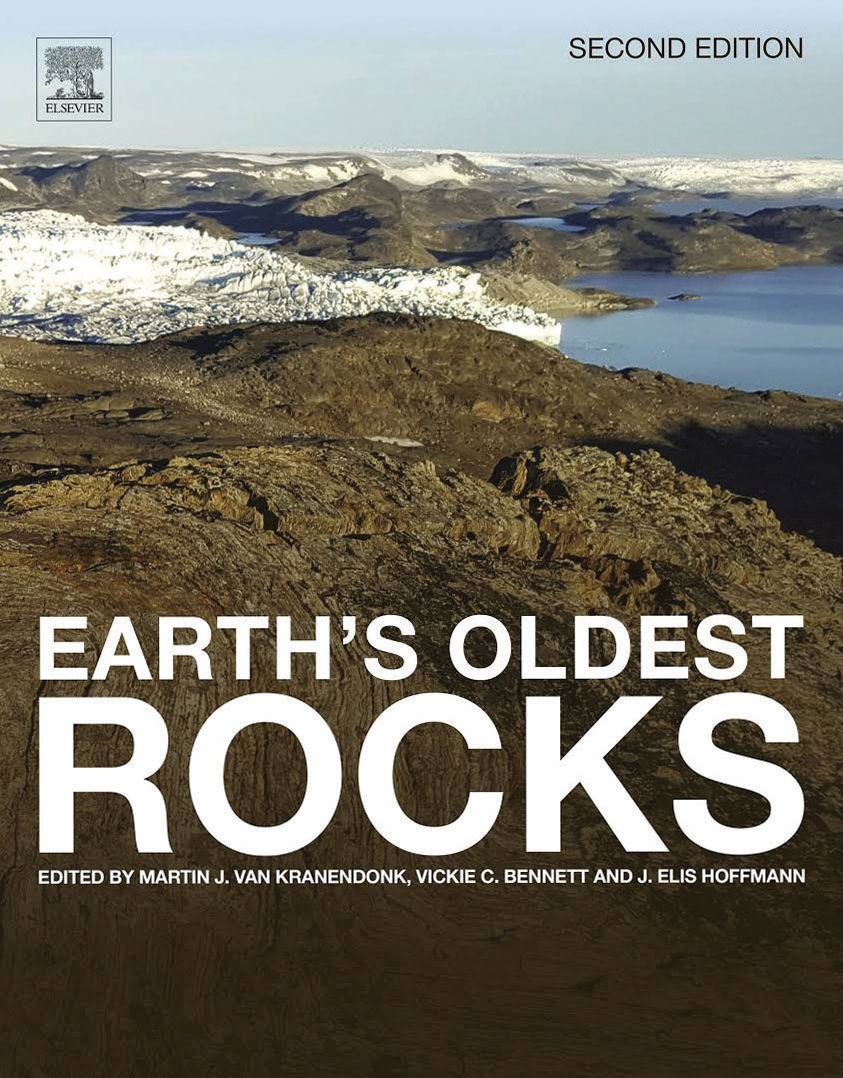 Earth's Oldest Rocks: Edition 2. Martin J. van Kranendonk, Vickie Bennett, Elis Hoffmann (eds) October 5, 2018, Elsevier.
---
Choi, E.
,
Fiorentini, M.L.
,
Giuliani, A.
,
Foley, S.F.
, Maas, R. and Taylor, W.R. 2020. Subduction-related petrogenesis of Late Archean calc-alkaline lamprophyres in the Yilgarn Craton (Western Australia).
Precambrian Research, 338, 105550.
View Article
Griffin, W.L.
,
Gain, S.E.M.
, Cámara, F., Bindi, L., Shaw, J.,
Alard, O.
, Saunders, M., Huang, J-X., Toledo, V. and O'Reilly, S.Y. 2020. Extreme reduction: Mantle-derived oxide xenoliths from a hydrogen-rich environment.
Lithos, 358-359, 105404.
View Article
Baumgartner, R.
,
Van Kranendon, M.
, Pagès, A.,
Fiorentini, M.
, Wacey, D. and Ryan C. 2020. Accumulation of transition metals and metalloids in sulfidized stromatolites of the 3.48 billion–year–old Dresser Formation, Pilbara Craton.
Precambrian Research, 337, 105534.
View Article
Tilhac, R.
,
Oliveira, B.
,
Griffin, W.L.
,
O'Reilly, S.Y.
,
Schaefer, B.F.
,
Alard, O.
, Ceuleneer, G.,
Afonso, J.C.
and Grégoire, M. 2020. Reworking of old continental lithosphere: Unradiogenic Os and decoupled Hf-Nd isotopes in sub-arc mantle pyroxenites.
Lithos, 354-355, 105346.
View Article
Le Vaillant, M., Barnes, S.J.,
Mole, D.R.
,
Fiorentini, M.L.
,
Laflamm, C.
,
Denyszyn, S.W.
, Austin, J., Patterson, B., Godel, B., Hicks, J., Mao, Y.-J. and
Neaud, A.
2020. Multidisciplinary study of a complex magmatic system: The Savannah Ni-Cu-Co Camp, Western Australia.
Ore Geology Reviews, 117, 103292.
View Article
---