News Archive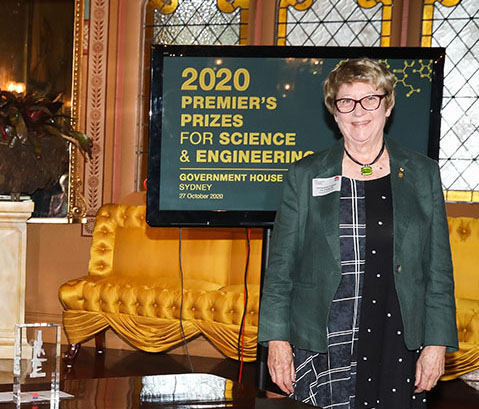 Congratulations to Professor Sue O'Reilly who was awarded the NSW Premier's prize for "Excellence in Mathematics, Earth Sciences, Chemistry or Physics"
The NSW Premier's prize is awarded by the NSW Government to celebrate the achievements of the State's finest, seeking to "recognise excellence in science and engineering, and reward leading researchers for cutting-edge work that has generated economic, environmental, health, social or technological benefits for New South Wales." View details here.
---
IN THE MEDIA - Associate Professor Craig O'Neill comments on the discovery of water on the moon. View the ABC science article here.
---
IN THE MEDIA - Associate Professor Craig O'Neill explains the interconnected reasons behind the renewed lunar push. View the article here.
---
IN THE MEDIA - CCFS paper finds what may be the 2 billion-year-old birthmarks of Earth's first supercontinent in northern China View The Conversation article here.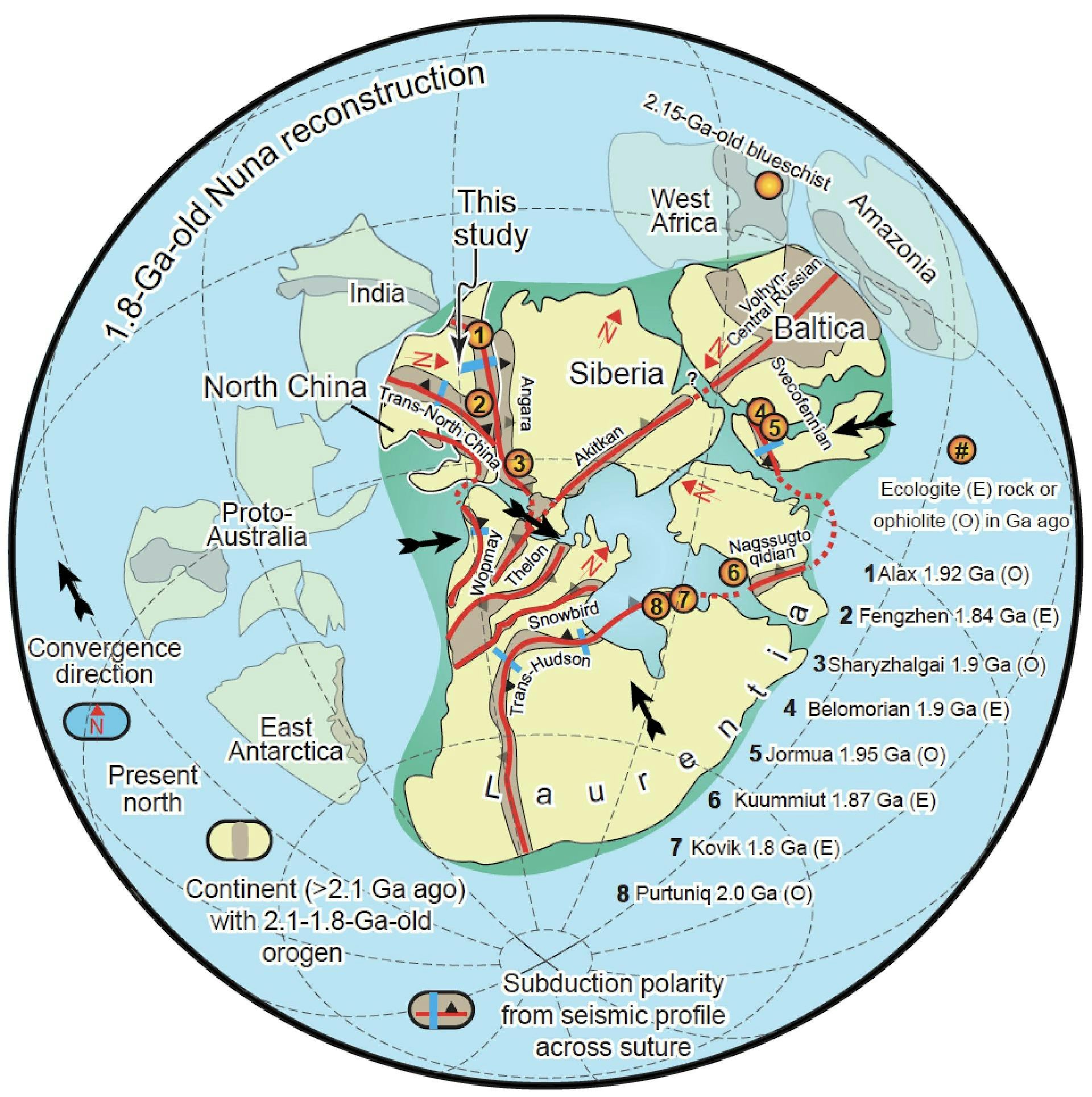 ---
CCFS publication published in Geostandards and Geoanalytical Research among the top 10% most downloaded papers!
Gain, S.E.M., Greau, Y., Henry, H., Belousova, E., Dainis, I., Griffin, W.L. and O'Reilly, S.Y. 2019. Mud Tank Zircon: Long-term evaluation of a reference material for U-Pb dating, Hf-isotope analysis and trace-element analysis. Geostandards and Geoanalysis, 43, 339-354. View the article here.
---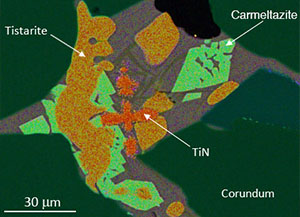 The IMA Commission on New Minerals, Nomenclature and Classification has chosen
carmeltazite
as its Mineral of the Year 2018. Carmeltazite was discovered in pockets of trapped melt in corundum xenocrysts from the Cretaceous Mt Carmel volcanics of northern Israel by CCFS's
Bill Griffin
,
Sarah Gain
, Luca Bindi (Università degli Studi di Firenze, Italy), Vered Toledo (Shefa Yamim Ltd., Israel), Fernando Cámara (Università degli Studi di Milano, Italy), Martin Saunders (UWA) and
Sue Y. O'Reilly
. Read more about carmeltazite
here.
---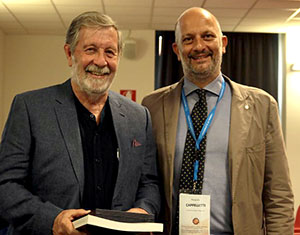 Congratulations to CCFS's Bill Griffin who was made an Honorary Fellow of the Italian Society for Mineralogy and Petrology (SIMP), at their annual meeting in Parma in September. The award was given "in recognition of internationally relevant scientific and organizing contributions to the advancement of the Mineralogical Sciences and an invaluable support to strengthen the scientific relationships between the nominee's country and Italy". (pictured with Piergiulio Cappelletti, President of SIMP).
---
Congratulations to CCFS's Bill Griffin, named 'Australia's Most Influential Researcher' in the field of Geochemistry and Mineralogy by The Australian 2019 Research Magazine. More here.
---
IN THE MEDIA - CCFS paper provides direct evidence of 3.5-billion-year-old microscopic life. View article here.
---
IN THE MEDIA - CCFS's Kate Selway talks to ABC's Robyn Williams about measuring the Earth's crust in Greenland... and avoiding Polar Bears! Listen here.
---
IN THE MEDIA - ABC NEWS - Professor Stephen Foley commented on a "Science" article using Helium 3/4 ratios in super deep diamonds to confirm the existence of a primordial reservoir. Read the article here.
---
Women in STEM Decadal Plan launched at Parliament House by the Minister for Industry, Science and Technology, Karen Andrews. Read more here.
---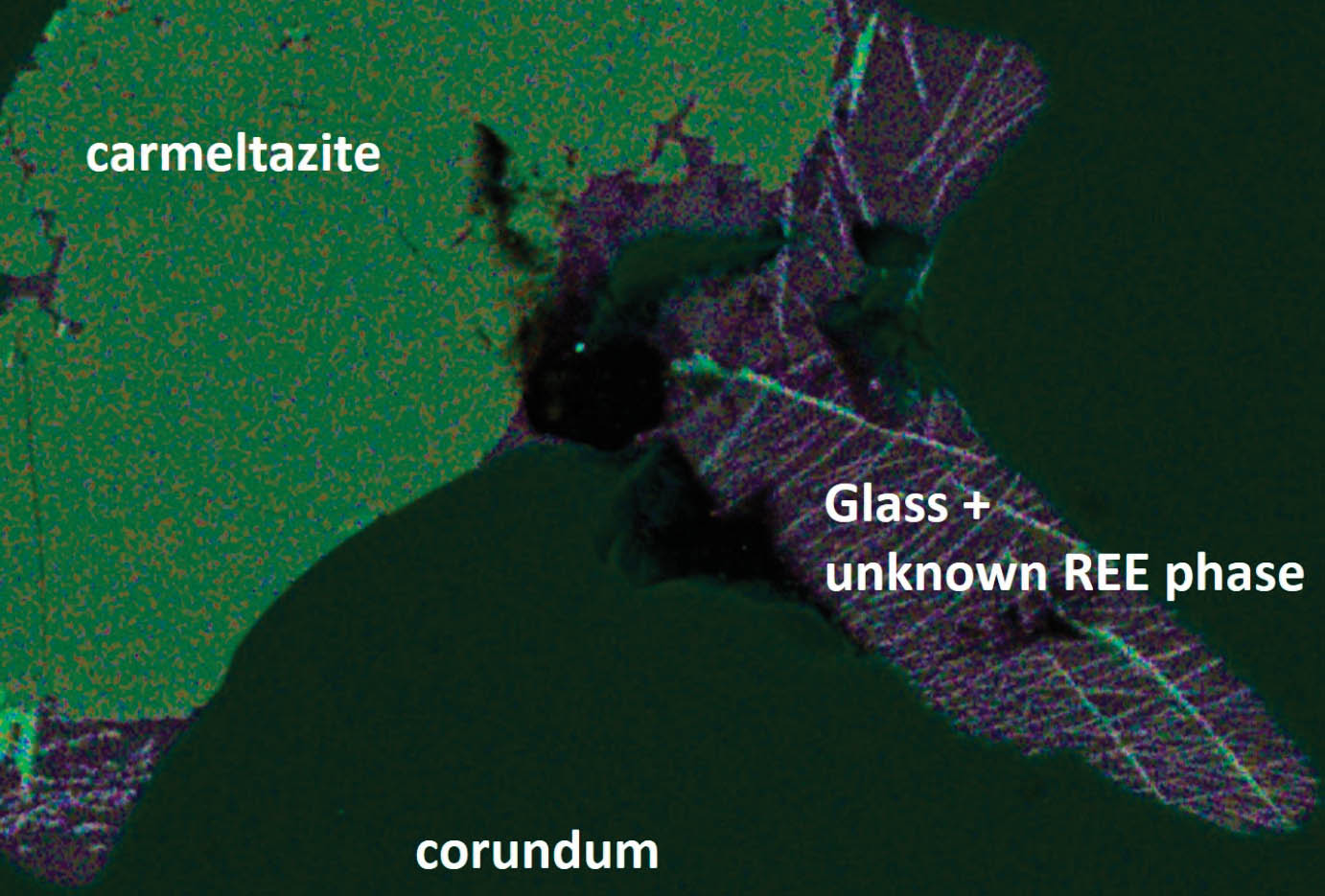 Industry collaboration between Shefa Yamim and CCFS Team results in new mineral discovery.

"New mineral found inside gemstones in Israel"
From article by Cecilia Jamasmie (http://www.mining.com/author/cecilia/) | Jan. 7, 2019, 4:42 AM |
Israel-focused precious stones junior Shefa Yamim (LON, TLV:SEFA) announced Monday (https:/ polaris.brighterir.com/public/shefa_yamim/news/rns/story/rdp59pr) a scientific discovery that may make its gemstones more valuable than they've ever been, as research has confirmed the presence of a new mineral inside them.
A mineral found in one of Shefa Yamim's gemstones has been approved as a new mineral by the International Mineralogical Association.
According to an article published in the journal Minerals (https:/ www.mdpi.com/2075-163X/8/12/601) last month, the new mineral — named Carmeltazite, after Mount Carmel in northern Israel — contains titanium, aluminium and zirconium (ZrAl2Ti4O11).
It can be found within a particular type of sapphire, which the company calls Carmel Sapphire (https:/ www.shefayamim.com/carmel-sapphire).
Carmel Sapphires contain inclusions of a remarkable mineral association, crystallizing from trapped melts at the time of the explosive eruptions. (Image courtesy of Shefa Yamim. ( https:/ www.shefayamim.com/carmel- sapphire ))
Chief executive Avi Taub said the news confirmed the uniqueness of its gemstone.
"We are delighted that our Carmel sapphire has been recognized as a host to many rare minerals," he said in the statement. "In today's world, where the prices of gems are determined predominantly by their rarity, the Carmel sapphire is a unique discovery."
The independent research was conducted by a group led by Professor Bill Griffin at Macquarie University in Australia, and included academics from the University of Western Australia, Università degli Studi di Firenze and Università degli Studi di Milano.
---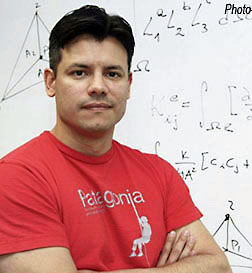 Congratulations to CCFS's Juan Carlos Afonso, who is the recipient of an IUGG Early Career Scientists Award. The award will be presented at the XXVII General Assembly of the IUGG, Montreal, Canada, July 2019.
---
---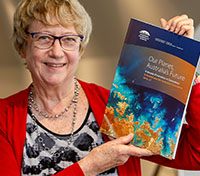 The Australian Academy of Science (AAS)
Decadal plan for Australian Geoscience
prepared by the AAS National Committee for Earth Science, chaired by Sue O'Reilly, was successfully launched to significant media attention. See press release, photos and media links
here.
---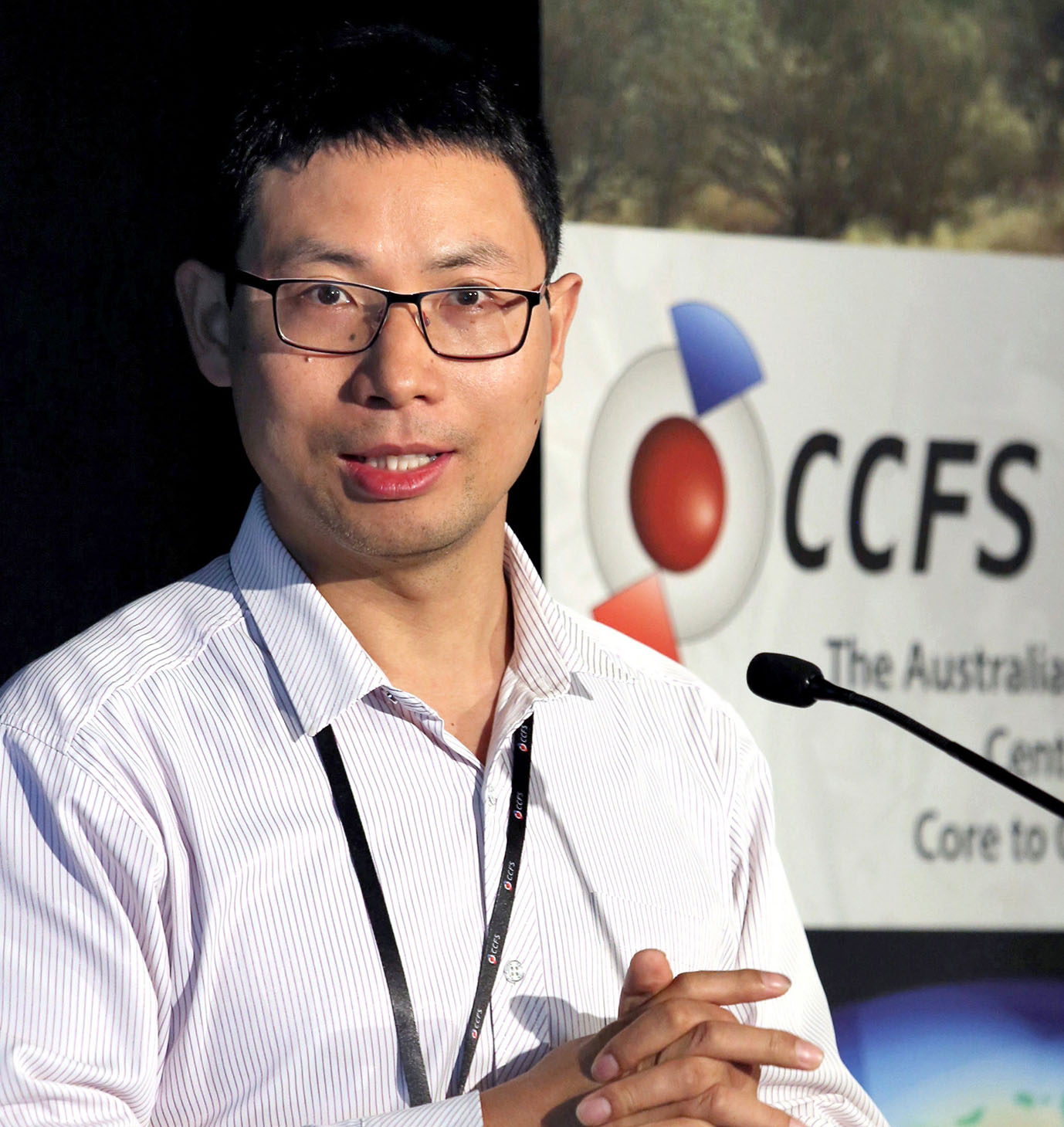 Congratulations to CCFS's Yongjun Lu, who is the recipient of the SEG Waldemar Lindgren Award for 2018.
---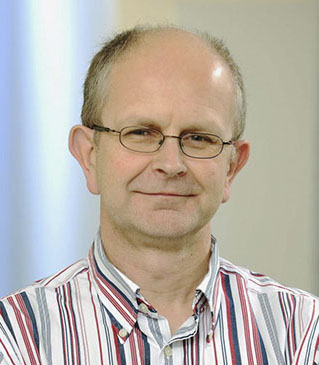 Congratulations to CCFS's Professor Stephen Foley, who was awarded the prestigious ARC Laureate Fellowship. Steve will give the 'GSA Ringwood Medal Lecture' Keynote at the upcoming AGCC Meeting.
---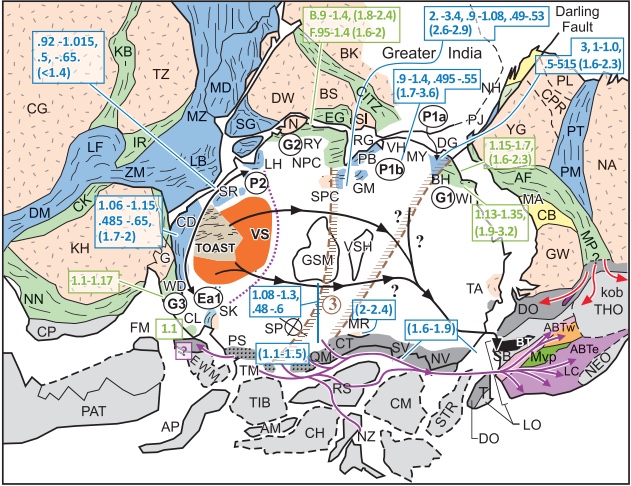 Dick Glenn (with co-authors Ian Fitzsimons, Bill Griffin and Ayesha Saeed) received The Stillwell Award - The best paper of the year as judged by the editorial board of the Geological Society of Australia. View the article here.
---
ACTER
2018 Field Symposium, Qilian Mountain, August 25 – September 5 2018
More details here
---
The FIRST IGCP-662 workshop and field excursion was held in China from 15 to 22 September 2018.
More details here
---
CCFS sponsored the
Geoanalysis 2018
- the 10
th
triennial scientific meeting of The International Association of Geoanalysts, 8-13 July 2018
Details here
---
Congratulations to Phil McFadden who was awarded an AO in the Queen's Birthday honours "For distinguished service to earth sciences as a geophysicist, through leadership of Australia's peak geoscience body, through collaboration and innovation in research, and to professional societies. Officer (AO) in the general division".
---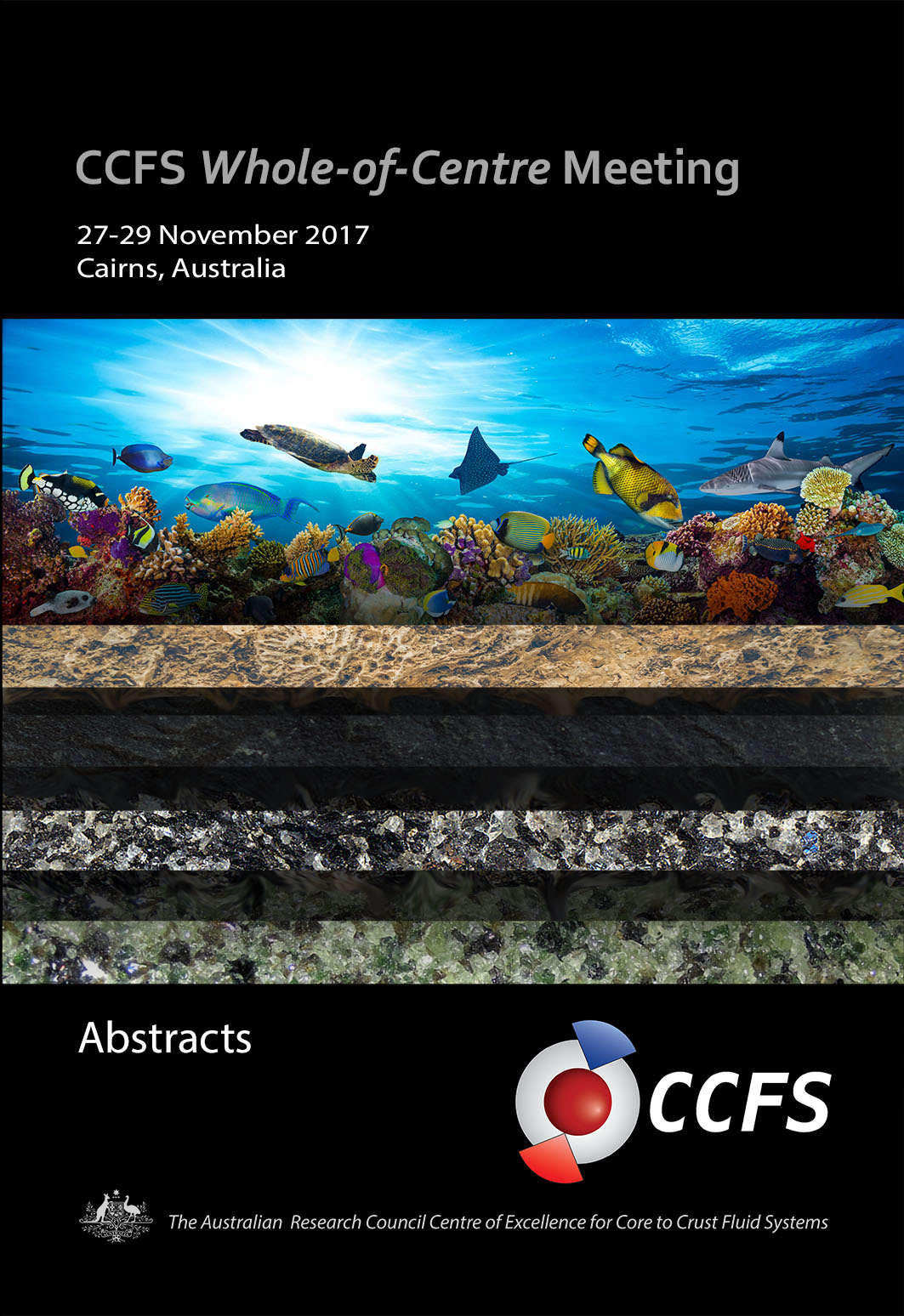 2017 CCFS Whole-of-Centre Meeting was held on the 27-29 November, Venue: Cairns
CCFS Whole-of-Centre Meeting Abstract Volume ISSN:2209-1351 (Online) available for download here.

---
Congratulations to Dick Glen, Elena Belousova and Bill Griffin - awarded "Best Paper published in the Canadian Journal of Earth Sciences in 2016" View paper here.
---
CCFS in the Media:
Craig O'Neill
discusses
Nature Geoscience
article - Did giant meteorites activate our tectonic plates?
Read More
---
ACTER 2017 Field Symposium - Tectonics of the Lachlan fold belt and granite petrogenesis
, 23–29 October 2017
Details here
---
CCFS sponsored
3rd Lithosphere Dynamics Workshop
, UWA, Perth, 5-6 November 2017
Workshop flyer
---
* Evidence of ancient life in hot springs on Earth could point to fossil life on Mars
(article picked up by over 70 news outlets)
---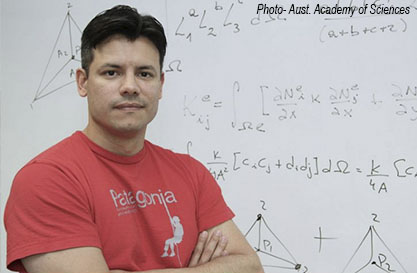 Congratulations to Juan Carlos Afonso who received the 2017 Anton Hales Medal for being "at the forefront of revolutionising the way that geoscientists interpret the signals they obtain from deep in the Earth by geophysical methods." Read more
This is the second CCFS Investigator to win the Anton Hales award - Yingjie Yang was also awarded this honour in 2014.
---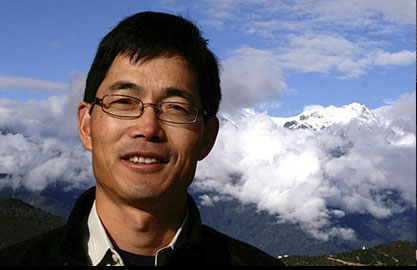 Congratulations to CCFS's ARC Australian Laureate, Professor Zheng-Xiang Li, who has was awarded The Geological Society of Australia's S.W. Carey Medal for 2016. The S.W. Carey Medal is awarded to a person distinguished in the field of tectonics.
---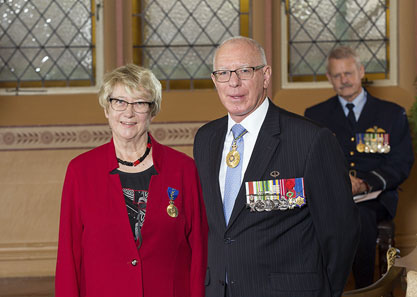 Sue O'Reilly receiving her 2016 Member (AM) in the General Division of the Order of Australia for "significant service to the Earth Sciences as an academic and researcher, to tertiary education and to scientific associations" from his is Excellency General The Honourable David Hurley AC DSC (Ret'd).
---
2016 CCFS Whole-of-Centre Meeting was held on the 21-22 November, Venue: Macquarie University
---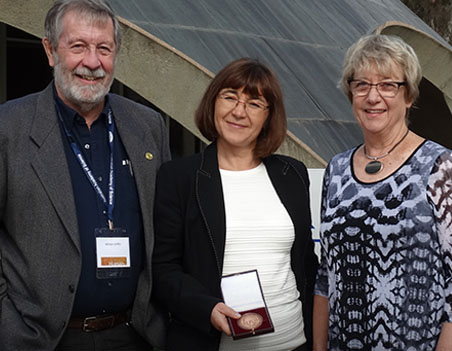 CCFS Chief Investigator Dr Elena Belousova was awarded the prestigious 2016 Nancy Millis Medal for Women in Science. It was formally presented on the 25th May at 'Science at the Shine Dome', Canberra. | Read more
---
CCFS sponsored shortcourse: Raman, Luminescence Spectroscopy and Imaging in the Earth and Planetary Sciences was held on the 28 November - 1 December 2016, Venue: Macquarie University Details here
---
* Top geologist: Israel has major deposits of precious stones
---
* Craig O'Neill comments on how life effects planet habitability
---
A CCFS Short Course on Snowball Earth by Professor Paul Hoffman - was held on Friday 15th July 2016
* If you missed the event you can still view the webcast here.

---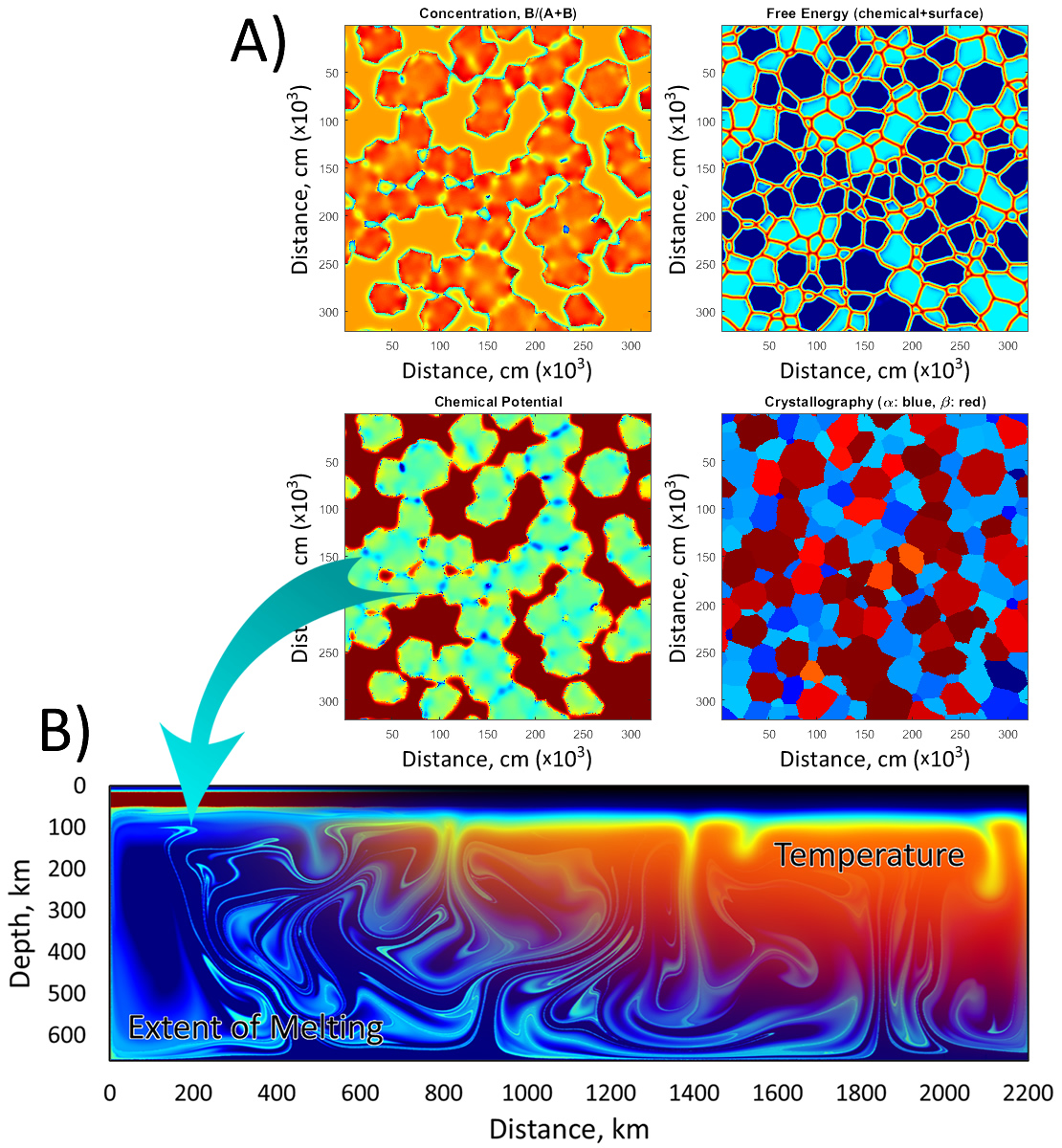 Congratulations to CCFS PhD graduate Chris Grose who was awarded the Seismology Laboratory Director's Postdoctoral Scholar position, a prize fellowship offered by vote amongst the Seismology Laboratory faculty at the California Institute of Technology. He will work with Paul Asimow and Mike Gurnis to develop the first grain-scale non-equilibrium thermodynamic numerical simulations of diffusion, phase transformation, grain coarsening, and deformation in the mantle. A prototype of such a model is shown in Figure A. Eventually, the grain-scale model will be coupled to geodynamic models to produce a next-generation tool for understanding the chemistry, petrology, and dynamics of the mantle (Fig. B).
---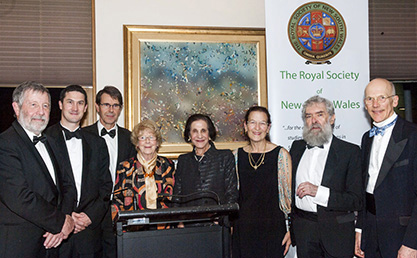 Professor Bill Griffin after receiving the Royal Society of New South Wales Clarke Medal from Dame Marie Bashir (Patron) centre, with other awardees of Royal Society honours, the President, and Vice-Presidents. The Clarke Medal is awarded for outstanding contributions to Australian geology. Bill's 2015 Clark Memorial Lecture will be held at Macquarie University, 6pm, Thurs 6 Aug, Building Y3A, Theatre T1. RSVP: E: events@mq.edu.au T: (02) 9850 ​4110​
---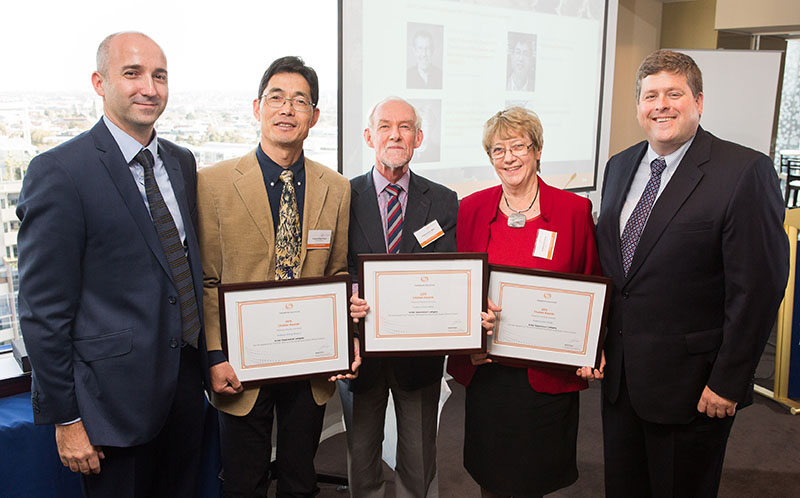 CCFS CI's recognised for their significant contribution to Australian Research: Four CCFS CI's were honoured at the 2015 Thomson Reuters Citation & Innovation Awards for their Contribution to the Understanding of the 'Tectonic Setting of the North and South China Cratons'. The team comprised Bill Griffin, Sue O'Reilly, Zheng-Xiang Li and Simon Wilde. Read more
---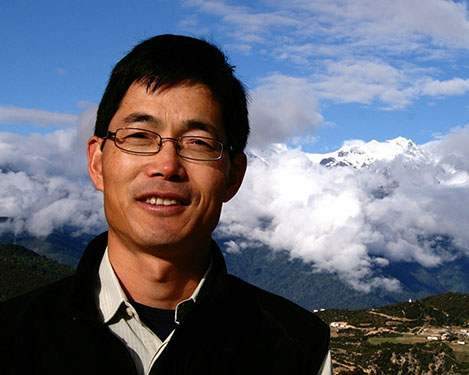 The ARC Australian Laureate Fellowships for this year have been announced, and CCFS's Professor Zheng-Xiang Li has received the only one awarded in the solid Earth Sciences! Read more
---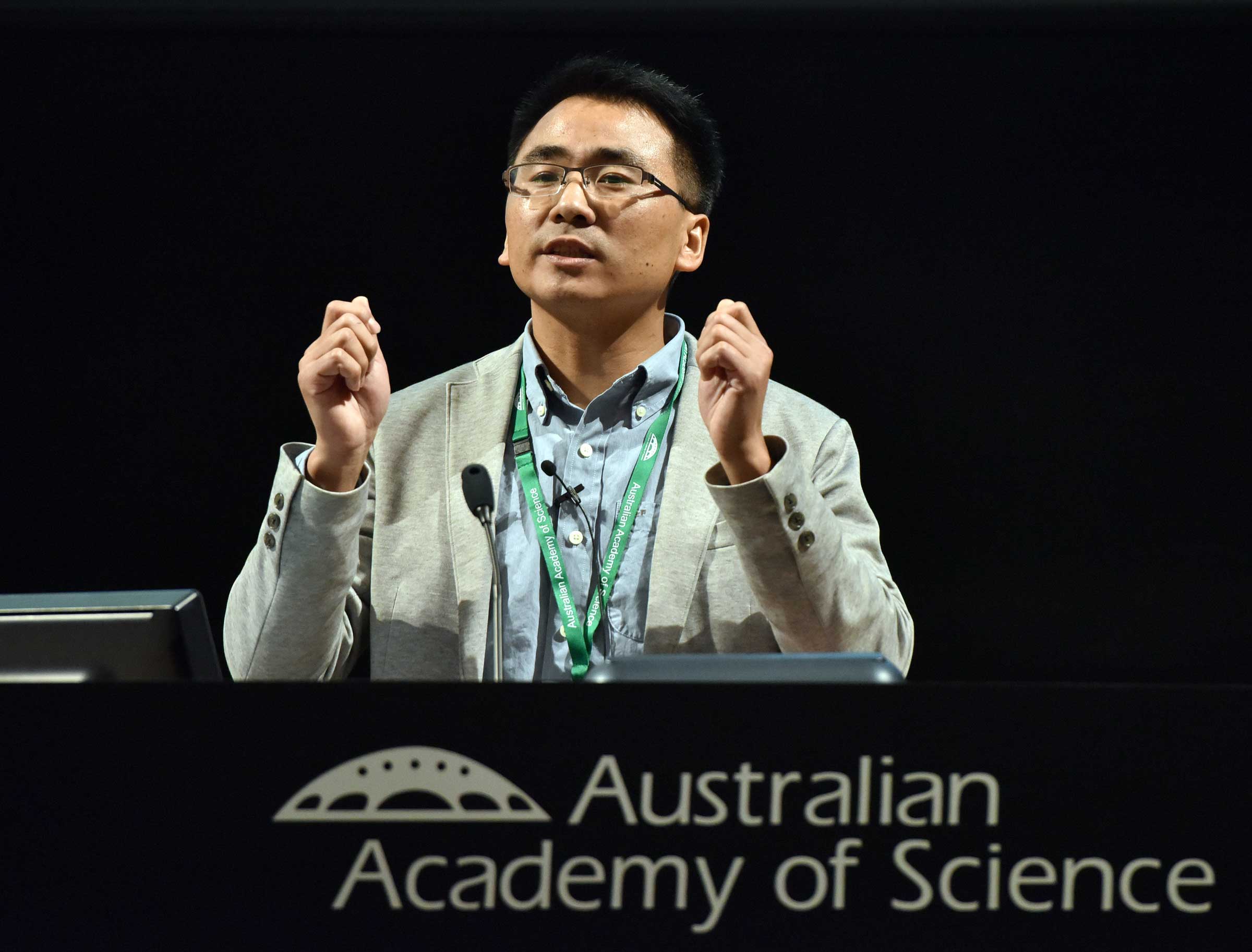 As part of this year's Australian Academy of Science - Science at the Shine Dome, CCFS's Dr Yingjie Yang was presented with the 2015 Anton Hales Medal and gave an award presentation entitled "The sound of the sea: 3D imaging of the Earth using noise from ocean waves". Watch video here. How to build a diamond factory

---
Sue O'Reilly rocks!
---
Australian university confirms Israeli rare mineral discovery
---
CCFS PhD student, Beñat Oliveira Bravo attended an award ceremony in Barcelona, Spain on the 10th of April where he was officially presented with his "La Caixa" scholarship by the Queen of Spain.

---
Congratulations to CCFS Director, Professor
Sue O'Reilly
, who has been elected to represent the physical sciences as a member of the Australian Academy of Science's Council in 2015.
Read more
---
Congratulations to Dr Heather Handley for receiving a Tall Poppy Science Award. This award is presented annually to New South Wales' best young scientists. Read more
---
The EPS HDR Day, Session 1 was held Thursday the 11th June, 2015 at Macquarie University - 9:00 am, Lecture Theatre 1, Y3A
---
The Lithosphere Shopping Centre
Distinguished Professor William Griffin
Distinguished Professor Sue O'Reilly
Trialling the new Marine National Facility
---
A CCFS sponsored workshop - 1st Australian Workshop for Early and Mid-Career Geoscientists was hosted at Macquarie University on the 1st - 2nd of December 2014. http://eps.mq.edu.au/emcg/
---
PLUMES OR PLATES IN THE ARCHEAN: How far does uniformitarianism apply in Archean tectonics? Archean Tectonics Debate and Symposium - 27 & 28 November 2014
Presented by CET and in collaboration with Steve Barnes (CSIRO), CCFS & GSWA. Flyer
---
A post-conference workshop "Recent advances on the interpretation of the global multiple sulphur isotope record: implications for the evolution of the Early earth and a wide range of ore-forming processes" was held on 11th of July 2014 after the Australian Earth Science Convention (www.aesc2014.gsa.org.au), organised by Marco Fiorentini, Sue Golding, Boswell Wing, Pascal Philippot.
---
The 3 Australian Geoscientists listed in the recent Thomson Reuters report http://sciencewatch.com/sites/sw/files/sw-article/media/worlds-most-influential-scientific-minds-2014.pdf are all Chief Investigators in CCFS: William Griffin (Macquarie) Zheng-Xiang Li (Curtin) and Simon Wilde (Curtin).
---
GEOLOG, the official blog of the EGU, has featured an interview with Dr Juan Carlos Afonso: "Geotalk: The mantle and models and measurements, oh my! Talking geophysics with Juan Carlos Afonso"
http://geolog.egu.eu/2014/03/27/geotalk-the-mantle-and-models-and-measurements-oh-my-talking-geophysics-with-juan-carlos-afonso/.
---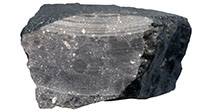 4.43 b.y. old Martian meteorite provides new insights into ancient Martian crust
Humayun, , Nemchin, A., Zanda, B., Hewins, R.H., Grange, M., Kennedy, A., Lorand, J.-P., Göpel, C., Fieni, C., Pont, S. and Deldicque, D. 2013. Origin and age of the earliest Martian crust from meteorite NWA 7533. Nature. (image: LUC LABENNE)
CCFS participants, Alex Nemchin and Marion Grange, are part of a team that examined a rare Martian breccia (NWA 7533). It is a unique regolith breccia similar in composition to soil samples analysed in Gusev crater by the Spirit rover and represents the still unknown southern and most ancient hemisphere of Mars.
The astonishing 4.43 b.y. age of the sample was obtained using SHRIMP U-Pb analyses of zircon at Curtin University's John de Laeter centre and is an evidence of Martian crust early differentiation. The meteorite also provides evidence for the Martian crust thickness and suggests that the planet was fully differentiated in its first ~100 m.y., coeval with the early crust formation of both the Moon and the Earth.
---
3.5 Billion year old Microbial ecosystems preserved in Western Australia's ancient Pilbera
CCFS's David Wacey is part of a team of international scientists who have discovered evidence of complex microbial ecosystems preserved in the 3.48 billion year old Dresser Formation. Their recearch was recently published in Astrobiology.
Noffke, N. Christian, D. Wacey, D. and Hazen, R.M. 2013. Microbially Induced Sedimentary Structures Recording an Ancient Ecosystem in the ca. 3.48 Billion-Year-Old Dresser Formation, Pilbara, Western Australia. Astobiology, 13, 1-22.
---
Nature Geoscience highlights CCFS research:

Continental-root control on the genesis of magmatic ore deposits, W. L. Griffin, G. C. Begg and Suzanne Y. O'Reilly, Nature Geoscience http://www.nature.com/ngeo/journal/vaop/ncurrent/full/ngeo1954.html
As traditional methods of targeting economically significant ore deposits provide fewer and fewer rewards, GEMOC, CCFS and collaborators (initially WMC, followed by BHP and, later, private consultancies) have developed a 4D predictive framework with the potential to revolutionise the mineral exploration industry.
The CCFS paper looks at the effect deeper, sub-contenental lithospheric mantle architecture has on focussing giant magma related ore systems. The paper describes the evolution of a predictive framework with the potential to transform contemporary methods used to target large sub-surface ore bodies in Australia and abroad. The methodology combines geological and geophysical data, and has resulted in the development of several outputs from the long term project such as Re-Os sulphide dating and the patented TerraneChron methodology (http://www.gemoc.mq.edu.au/TerraneChron.html).
---
A Tectonic History of South China in Nine Days – a CCFS Joint Field Workshop, 7–15 December, 2013
A biannual field workshop on tectonic history of South China was jointly conducted by CCFS CI Professor Zheng-Xiang Li of Curtin University (z.li@curtin.edu.au), Professor Hanlin Chen and Dr Fengqi Zhang of Zhejiang University, and Professor Xian-Hua Li of the Chinese Academy of Sciences between 7–15 December 2013. It consisted of a one-day indoor lecture by Zheng-Xiang Li on the tectonic history of South China, followed by a 8-day field excursion from eastern Zhejiang Province to central Jiangxi Province.
The traverse stretches from the Cathaysia Block close to the coastal zone, to the southern margin of the Yangtze Block, covering key geotectonic features such as basement rocks of the Cathaysia Block, record of the early Neoproterozoic Sibao orogeny that led to the amalgamation of the Cathaysia and Yangtze blocks during the assembly of the supercontinent Rodinia, development of the Neoproterozoic continental rift basins related to the breakup of Rodinia, the early Palaeozoic intraplate Wuyi-Yunkai orogeny, Mesozoic Indosinian orogeny and related large magmatic and mineralisation events (both interpreted to be related to flat-slab subduction and foundering), foreland basin records of orogenic progression, and two major episodes of post-orogenic marine transgression in the region. Targeted participants: Researchers and research students from collaborating institutions who are interested in tectonic analysis.
---
The CCFS Science Advisory Committee Meeting was be held from Tuesday the 11th - Friday the 14th of June at Macquarie University. Meet our Science Advisory Committee members...
---
CCFS participant Stephen Foley is co-author of a recently published SCIENCE paper drawing media attention to how natural dust reduces the cooling effect of sulphur in clouds: Macquarie Newsroom feature article: New research shows natural dust reduces cooling effect of sulphur in cloudsOriginal Publication: "Enhanced role of transition metal ion catalysis during in-cloud oxidation of SO2": Eliza Harris et al., Science Vol. 340, 727-730, doi: 10.1126/science.1230911, Published May 10th, 2013.
---
Professor Sue O'Reilly was interviewed for a article titled "Hard Core" which appeared on p. 62 of the recent issue of Discovery Channel Magazine.
CCFS is organised a successful Workshop on Lithosphere Dynamics 4-6 November 2013 at the University of Western Australia. Convenors were WeronikaGorczyk and Juan-Carlos Afonso. More information is available at:
http://www.cet.edu.au/news-and-media/events/event-details/2013/05/15/ccfs-workshop-on-lithosphere-dynamics
---
Congratulations to Juan Carlos Afonso who was announced as the recipient of the European Geosciences Union (Outstanding Young Scientist Award (Geodynamics Division). He will receive his award at the 2013 EGU General Assembly to be held in Vienna on 7-12 April.
http://www.egu.eu/awards-medals/division-outstanding-young-scientists-award/2013/juan-c-afon
---
Congratulations to our successful ARC Future Fellowships recipients: Heather Handley and Dorrit Jacob! (July 2012)
---
Dr Craig O'Neil was a guest on the ABC's 'Starstuff' (June 6th 2012) talking about the transit of Venus: http://www.abc.net.au/science/audio/2012/05/30/3514118.htm?topic=space
The accompanying story is available here: http://www.abc.net.au/science/articles/2012/05/25/3510139.htm
---
On Thursday the 31st May 2012, CCFS's Craig O'Neill participated in the official launch of the Australian Seismometers in Schools Network (AuSIS). The network forms part of the AuScope Australian Geophysical Observing System - Geophysical Education Observatory. Among the Invited guests were the Chair and Directors of AuScope, the Minister for Tertiary Education, Skills, Science and Research and Senator the Hon Christopher Evans. Melrose High School in the ACT hosted the event.
---
An UNCOVER WORKSHOP was hosted by CCFS and Macquarie University on behalf of the National Accademy of Sciences on the 24 May 2012. The event was part of a nationally run series of workshops to Facilitate discussion of the Exposure Draft: "Searching the Deep Earth: A vision for exploration geoscience in Australia". Speakers were Dr Robert Hough (CSIRO) and Professor Dietmar Müller (Sydney University). The event was well attended and guests included two representatives from the Office of the NSW Chief Scientist & Engineer.
---
CCFS August 2012 Science Advisory Committee Meeting Photos
---
CCFS Official Launch
On behalf of the Collaborating Partners, the Deputy Vice-Chancellor of Research at Macquarie University, Professor Jim Piper, officially launched the Australian Research Council Centre of Excellence for Core to Crust Fluid Systems on November 11, 2011. Our special guest for the afternoon was Professor Margaret Sheil, Chief Executive Officer of the ARC. We would like to thank Margaret Sheil, Jim Piper, Stephen Thurgate, and all those who were able to join us to celebrate this momentous occasion.
Simon Wilde, Suzanne O'Reilly, Margaret Sheil, Campbell McCuaig and Jim Piper
Photographed by Effy Alexakis, photowrite
More photographs of the launch are available here
Macquarie University 3-minute thesis competition
Competitors are allowed three minutes to deliver an engaging and dynamic talk on their thesis topic and its importance. Their talk is limited to a single slide and language appropriate to an intelligent but inexpert audience.

Macquarie University 3-minute thesis competition 2014 - The Faculty of Science and CCFS were represented by two outstanding PhD candidtates. There presentations can be viewed here:
Irina Treriakova The Lithosphere shopping centre
Romain Tilhac - Sampling Earth's lifeblood

Macquarie University 3-minute thesis competition 2013 - In 2013 Chengxin Jiang from CCFS represented the Faculty in the University Finals. His impresive presentation can be viewed here:
Chengxin (Jason) Jiang - Imaging the Earth's Interior with seismic noise