CCFS organisation and structure
The CoE is an Unincorporated Joint Venture between the University Partners, with nodes at Macquarie (Adminstering Institution), University of Western Australia and Curtin University.
Professor Suzanne O'Reilly is Director, supported by a Chief Operating Officer and a Publicity and Development Officer. Node Directors administer the UWA and CU nodes. Node Directors are responsible for providing leadership in their respective nodes, bringing together researchers to form a coherent team with a shared vision of the whole CoE's aims and objectives. The Geological Survey of Western Australia has a nominated representative.
Professor O'Reilly chairs an Executive Committee consisting of two other CCFS participants from each node, including the Node Directors. Financial auditing is done at each institution, with MQ responsible for the final reporting to ARC through the DVC Research.
The development and implementation of the Centre's research plan is guided by the Theme Teams, consisting of the CIs and at least one ECR investigator from each node. These Teams participate in workshopping the Themes and their interactions, define and develop research strands, and make recommendations to the Executive Committee. An inaugural Centre Workshop developed the Foundation Projects.
The Advisory Board includes senior representatives from industry and other end users such as Geoscience Australia. This model has proven highly productive during the lifetimes of the GEMOC Key Centre and CET. The Board meets annually to provide advice on the research program and governance, and any other matters relevant to CCFS. The Board's recommendations will be incorporated into a Strategic Plan.
The Science Advisory Committee will provide advice on research progress and future directions.
CCFS aims to implement efficient research and financial management; timely, accurate reporting by each Node and the Centre; annual Advisory Board meetings; transparent and accountable financial management; positive responses from end users.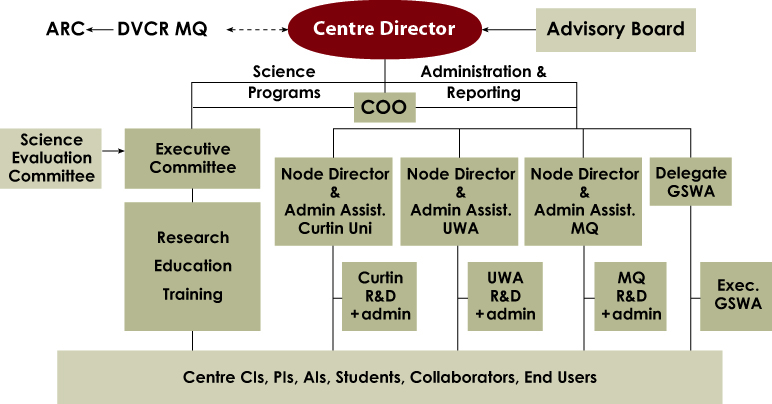 2011 MAIN MANAGEMENT ROLES

Professor Suzanne O'Reilly: Director CCFS
Professor T. Campbell McCuaig: Node Director, UWA
Professor Simon Wilde: Node Director, Curtin University
Professor William Griffin: Deputy Node Director (Research), MQ
Associate Professor Norman Pearson: Director, GAU MQ
Associate Professor Matt Kilburn: CCFS Liaison Research Coordinator, CMCA, UWA
Professor Neal McNaughton: CCFS Liaison Research Coordinator, de Laeter Centre Curtin/UWA
Professor Zheng-Xiang Li: Director, Palaeomagnetic Facility, Curtin/UWA
Professor Simon Turner: Leader U-Series Group, MQ
Dr Ian Tyler: GSWA CCFS Coordinator
Ms Casey Windrum: Chief Operating Officer
Ms Sally-Ann Hodgekiss: Development and Business Officer
Ms Estelle Dawes: CCFS Administrator, UWA

ADVISORY BOARD EXTERNAL MEMBERS 2011

Four representatives of major end-user groups are on the Advisory Board:
Dr Ian Gould (Chair): Chancellor, University of South Australia; past CEO of CRA, Rio Tinto and Normandy; Chair, CSIRO Minerals Sector Advisory Council
Dr Jon Hronsky: Principal, Western Mining Services; former global Director Generative and Strategic Services, WMC and BHP-B
Dr James Johnson: Chief of Division (Onshore Energy and Minerals) Deputy CEO, Geoscience Australia
Dr Paul Heithersay: Leader PIRSA Minerals and Energy Resources, South Australia (named DMITRE from 2012)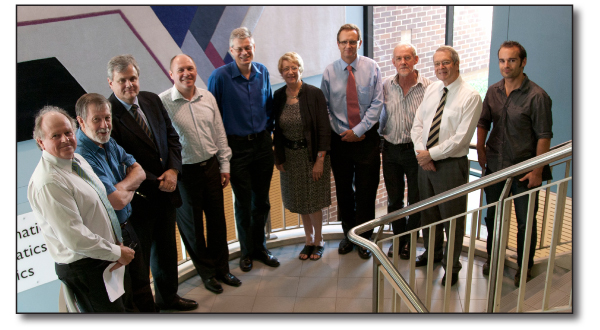 CCFS inaugural Board Meeting: Jim Piper, Bill Griffin, Paul Heithersay, T. Campbell McCuaig, Jon Hronsky, Sue O'Reilly, James Johnson, Simon Wilde, Ian Gould, and Craig O'Neill.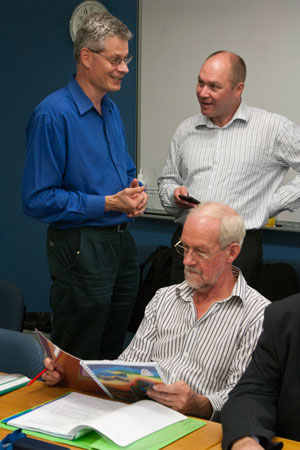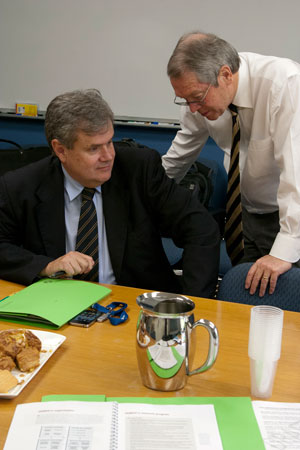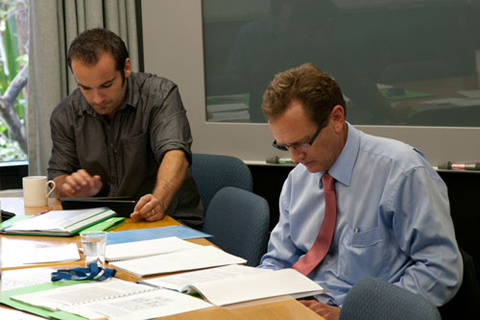 CCFS inaugural Board Meeting held in March, 2011: Ian Gould, and Paul Heithersay (right), Jon Hronsky, T. Campbell McCuaig and Simon Wilde (below), Craig O'Neill and James Johnson (lower right)
SCIENCE ADVISORY COMMITTEE

The Science Advisory Committee (SAC) has been set up to provide an independent, external advisory perspective on CCFS' scientific programs. The SAC will:
evaluate research: strategy, structures and outcomes

advise on tactical research plans
The SAC comprises a minimum of three internationally leading researchers, spanning CCFS programs. Membership will be rolling appointments to achieve the dual aims of continuity and new approaches.
The first SAC meeting will precede the 34th International Geological Congress in Brisbane in August 2012 to capitalise on the presence of high-profile international delegates.
The Inaugural Science Evaluation Committee members are:
Professor Marjorie Wilson: Professor of Igneous Petrogenesis; Faculty Pro-Dean for Research, Unversity of Leeds (UK)
Professor Julian Pearce: Professorial Research Fellow, Cardiff University (UK)
Professor Alan Jones: Head of Geophysics Section and Senior Professor, Dublin Institute for Advanced Studies (Ireland)

---