The following honours projects in CCFS were completed in 2012:
Macquarie
Mid 2012 Finish
Madeline Kobler: Petrographic, geochemical and geochronological characterisation of Batavia Knoll dredge samples, Perth Abyssal Plain: implications for linkage with Eastern Gondwana
Roderick Lawrence: Gravity modelling of the Late-Permian Dundee Rhyodacitic Ignimbrite, New England Region, NSW
Allyson Jennings: An experimental investigation of primitive magmas from the Kermadec Arc
Katherine Farrow: Petrographic and geochronological investigation of S-Type granites from a low-pressure high-temperature regional aureole: Mt Stafford, Central Australia
Emma-Kate Chisholm: Geochemical and isotopic constraints on timing and nature of Siluro-Devonian magmatism between Wombeyan and Yerranderie

End of 2012 Finish
Ristch Camille: Constrained 3D magnetic modelling predicting the resource grade of magnetite at Hawsons, Broken Hill, New South Wales
Emma Flannery: Organic Geochemistry of the Mesoproterozoic Velkerri Formation, McArthur Basin
Samuel Matthews: Geodynamics of Venusian-type planets
James Smith: Investigating the complex interactions between deformation, fluids and the rates of reactions in northern Fiordland, New Zealand
Catherine Stuart: Aqueous liquid advection: A plausible mechanism for heating the shallow crust to form HTLP metamorphic belts?
Alexander Tickle: Magmatic/hydrothermal evolution of tin in an ore-forming environment: A case study of the Mole Granite using a combined geochemical and geophysical approach
Curtin
Ryan Dethian: Smarter look at Fool's Gold: Microstructural analysis of sulfides from the Mickey Doolan deposit, Meekatharra Western Australia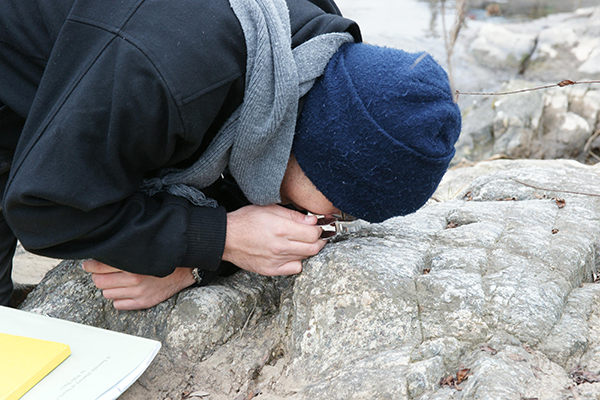 Curtin honours student Ryan Dethian taking a closer look while attending "A Tectonic History of South China in Nine Days" – CCFS Joint Field Workshop with Chinese Partners, researchers from the Chinese Academy of Sciences, staff and students from Zhejiang University, Curtin University and Nanjing University. During the fieldtrip students held evening discussions, and final seminar presentations on what they learned during the trip.
University of Western Australia
Trent Batterham: Dolerites from the Rosie Nickel Prospect
Graeme Hardwick: Regolith geochemistry of the Katanning gold discovery
Brendan Lally: Geological mapping of an area in south-east Greenland