INDUSTRY INTERACTION AND TECHNOLOGY TRANSFER ACTIVITIES
CCFS has a strategic goal to interact closely with the mineral exploration industry at both the research and the teaching/training levels. The research results of the Centre's work are transferred to industry and to the scientific community in several ways:
collaborative industry-supported Honours, MSc and PhD projects
short courses relevant to industry and government-sector users, designed to communicate and transfer new technologies, techniques and knowledge in the discipline areas relevant to CCFS
one-on-one research collaborations and shorter-term collaborative research on industry problems involving national and international partners
provision of high-quality geochemical analyses with value-added interpretations on a collaborative research basis with industry and government organisations, extending our industry interface
use of consultancies and collaborative industry projects (through the commercial arms of the national universities) which employ and disseminate the technological and conceptual developments carried out by the Centre
GLITTER, an on-line data-reduction program for Laser Ablation ICPMS analysis, developed by GEMOC and CSIRO/GEMOC participants, has been successfully commercialised and continues to be available from GEMOC through Access MQ (http://www.gemoc.mq.edu.au/); the software is continually upgraded.
collaborative relationships with technology manufacturers (more detail in the section on Technology Development )
The Centre for Exploration Targeting (CET) at UWA (http://www.cet.edu.au/industry-linkage) provides CCFS with a unique interface with a broad spectrum of mineral exploration companies and many CET activities (e.g. research projects, workshops and postgraduate short courses).

SUPPORT SOURCES
CCFS industry support includes:
direct funding of research programs
industry subscriptions (CET)
"in kind" funding including field support (Australia and overseas), access to proprietary databases, sample collections, digital datasets and support for GIS platforms
logistical support for fieldwork for postgraduate projects
collaborative research programs through ARC Linkage Projects and the University External Collaborative Grants (e.g. Macquarie's Enterprise Grant Scheme) and PhD program support
assistance in the implementation of GIS technology in postgraduate programs
participation of industry colleagues as guest lecturers in undergraduate units
extended visits by industry personnel for interaction and research
ongoing informal provision of advice and formal input as members of the Advisory Board

ACTIVITIES IN 2012
TerraneChron® studies (http://www.gemoc.mq.edu.au/TerraneChron.html) have enjoyed continued uptake by a significant segment of the global mineral exploration industry. This methodology, currently unique to CCFS/GEMOC, requires the integration of data from three instruments (electron microprobe, LAM-ICPMS and LAM-MC-ICPMS) and delivers fast, cost-effective information on the tectonic history of regional terranes (http://www.gemoc.mq.edu.au/TerraneChron.html). The unique extensive database (over 26,000 zircon U-Pb and Hf-isotope analyses) in the Macquarie laboratory allows unparalled contextual information in the interpretations and reports provided to industry. Three major Industry Reports were completed for collaborative industry projects related to TerraneChron® at CCFS/GEMOC. This involved collaboration with five industry partners.
An ARC Linkage project commenced, aimed at understanding the lithospheric architecture and mineral systems across the Neoarchean to Paleoproterozoic time periods, specifically comparing the Yilgarn Craton, Tanami Orogen, and western African craton. This project is based at CET but involves cross-node participation in CCFS.
The Paleomagnetic group at Curtin and UWA were funded for a collaborative project with MMG (Minerals and Metal Group) to explore the spatiotemporal and tectonic controls on the location of clastic lead-zinc concentrations.
The ARC Linkage Project titled "Global Lithosphere Architecture Mapping" (GLAM) was extended as the "LAMP" (Lithosphere Architecture Mapping in Phanerozoic orogens) project through a Macquarie University Enterprise Grant with Minerals Targeting International as the external industry partner.
A sub-licencing agreement was executed with Minerals Targeting International to accommodate Dr Graham Begg's role and access to GLAM IP (in relationship to Macquarie, BHP Billiton and the GLAM project) as Director of this company. Dr Begg spent significant research time at GEMOC through 2012 as part of the close collaborative working pattern for this project.
On-going collaboration with BHP Billiton (Dr Kathy Ehrig) and University of Tasmania (Professor Vadim Kamenetsky) looking for evidence of younger magmatic events (e.g. Grenville-age events) in the magmatic evolution of the Gawler Craton, with a particular focus on the region around the giant Olympic Dam deposit.
GEMOC's development of a methodology for analysis of trace elements in diamond continued to open up potential further developments and applications relevant to industry, ranging from diamond fingerprinting for a range of purposes to improving the knowledge framework for diamond exploration. This work is continuing, with a focus on understanding the growth and chemical history of individual diamonds and diamond populations. It was supported in 2012 by CCFS Foundation Project 8 and MQ Research Associate funding for Dr Dan Howell.
The GEMOC technique for dating the intrusion of kimberlites and lamproites using LAM-ICPMS U-Pb analysis of groundmass perovskite continued. This rapid, low-cost application has proven very attractive to the diamond exploration industry, and has led to several small collaborative projects; it was also applied in a 2012 ARC Linkage project sponsored by De Beers.
The application of U-series isotopes to groundwater studies for both exploration and investigation of palaeoclimate continued in 2012. Collaboration with Heathgate Resources at the Beverley Uranium mine in South Australia is investigating these processes using a well-constrained aquifer system in both a mining and exploration context.
Geodynamic modelling capabilities have now been extended to industry-related projects. An ongoing collaboration between GEMOC and Granite Power Ltd has led to important data exchange, and to a paper (CCFS publication #165) on the thermal and gravity structure of the Sydney Basin.
A continuing collaborative relationship with New South Wales Geological Survey is applying TerraneChron® to investigations of the provenance of targeted sequences in the Paleozoic sedimentary terranes of eastern Australia, and the development of the Macquarie Arc.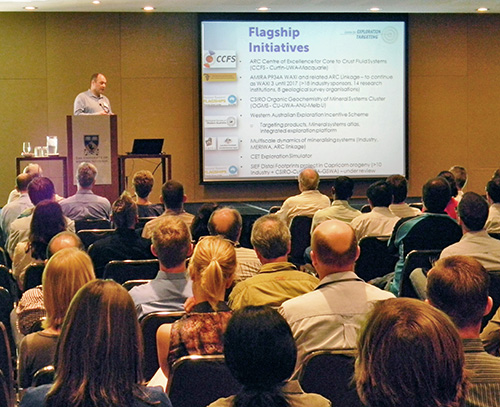 A collaborative research project continued in 2012 with the Geological Survey of Western Australia as a formal CCFS Foundation Project, in which GEMOC is carrying out in-situ Hf-isotope analyses of previously SHRIMP-dated zircon grains from across the state. This is a part of the WA government's Exploration Incentive Scheme.
CET held their annual "Corporate Members Day", at The University Club of Western Australia on 10 December 2012, to showcase its research to its Corporate Members

(Photo Left: Cam McCuaig addressing the large audience)

. The day provided members with the oportunity to discuss the innovative work of the CET, including its involvement in CCFS, and also gave the CCFS ECR and postgraduate students a chance to interact with industry (http://www.cet.edu.au/industry-linkage). A new feature of the day was the introduction of posters and poster presentations by CET staff and students showcasing the width and breadth of research. CET also launched a new Theme: "Training and Knowledge Transfer"as well as the exciting new plans for CET in 2013 and beyond.
Industry visitors spent varying periods at Macquarie, Curtin and UWA (CET) in 2012 to discuss our research and technology development (see visitor list, Appendix 5). This face-to-face interaction has proved highly effective both for CCFS researchers and industry colleagues.
DIATREEM (an AccessMQ Project) continued to provide LAM-ICPMS analyses of garnets and chromites to the diamond-exploration industry on a collaborative basis.
CCFS publications, preprints and non-proprietary reports are available on request for industry libraries.
CCFS participants were prominent in delivering keynote and invited talks and workshop modules at national and international industry peak conferences in 2012.
See Appendix 6 for abstract titles and Appendix 4 for recent publications.
A full list of previous GEMOC Publications is available at http://www.GEMOC.mq.edu.au.

CURRENT AND 2012 INDUSTRY-FUNDED COLLABORATIVE RESEARCH PROJECTS
These are brief descriptions of 2012 and current CCFS projects that have direct cash support from industry, with either formal ARC, internal University or State Government support status and timeframes of at least one year. Projects are both national and global. In addition to these formal projects, many shorter projects are directly funded by industry alone, and the results of these feed into our basic research databases (with varied confidentiality considerations). Such projects are administered by the commercial arms of the relevant universities (e.g. Access MQ Limited, at Macquarie).
CCFS industry collaborative projects are designed to develop the strategic and applied aspects of the basic research programs, and are many are based on understanding the architecture of the lithosphere and the nature of Earth's geodynamic processes that have controlled the evolution of the lithosphere and its important discontinuities. Basic research strands translated to strategic applications include the use of geochemical data on crustal and mantle rocks and integration with tectonic analyses and large-scale datasets (including geophysical data) to understand the relationship between lithosphere domains and large-scale mineralisation. The use of sulfides to date mantle events, and the characterisation of crustal terrane development using U-Pb dating and Hf isotopic compositions of zircons provide more information for integration with geophysical modelling. TerraneChron® is an important tool for characterising the tectonic history and crustal evolution of terranes on the scale of 10 – 100 km and delivers a cost-effective exploration tool to the mineral (and potentially petroleum) exploration industry.
The Paleomagnetic group at Curtin and UWA are exploring the spatiotemporal and tectonic controls on the location of clastic lead-zinc concentrations, based on their basic research focus of reconstructing continental configurations.

CCFS PROJECTS FUNDED BY INDUSTRY (INCLUDING ARC LINKAGE)
Lithospheric Architecture Mapping in Phanerozoic Orogens
Supported by MQ Funds
Industry Collaborator: Minerals Targeting International (PI G. Begg)
CIs: Griffin, O'Reilly, Pearson, Belousova, Natapov
Summary: The GEMOC Key Centre has developed the conceptual and technological tools required to map the architecture and evolution of the upper lithosphere (0-250 km depth) of cratons (the ancient nuclei of continents). Through two industry-funded programs we have mapped most of the world's cratons, making up ca 70% of Earth's surface. The remaining 30% consists of younger mobile belts, which hold many major ore deposits, but are much more complex and difficult to map. This pilot project is developing the additional tools required to map the mobile belts.
A novel approach to economic uranium deposit exploration and environmental studies
Supported by ARC Linkage Project
Industry Collaborator: Heathgate Resources
CIs: Turner, Schaefer, McConachy
Summary: The project proposes the use of a novel approach to prospecting for economic uranium ore deposits. The measurement of radioactive decay products of uranium in waters (streams and aquifers) and sediments will allow us to (i) identify and locate economic uranium ore deposits and (ii) quantify the rate of release of uranium and decay products during weathering and hence the evolution of the landscape over time. In addition, this project will improve our knowledge of the mobility of radioactive elements during rock-water interaction, which can be used to assess the safety of radioactive waste disposal. Outcomes of this project will be: (i) the discovery of new economic uranium deposits; (ii) development of a new exploration technology allowing for improved ore deposit targeting. Information gained on the behaviour of radioactive elements at the Earth's surface will be critical for the study of safety issues related to radioactive waste storage and obtaining reliable time constraints on the evolution of the Australian landscape.
Composition, structure and evolution of the lithospheric mantle beneath southern Africa: improving area selection criteria for diamond exploration
Supported by ARC Linkage Project
Industry Collaborator: De Beers
CIs: Griffin, O'Reilly, Pearson
Summary: Trace-element analyses of garnet and chromite grains from kimberlites distributed across the Kaapvaal craton and the adjacent mobile belts will be used to construct 2D and 3D models of compositional and thermal variation in the lithospheric mantle (to ~250 km depth), in several time slices. Regional and high-resolution geophysical datasets (e.g. seismic, magnetotelluric, gravity) will be used to test and refine this model. Links between changes in the compositional structure of the lithospheric mantle and far-field tectonic events will be investigated using 4-D plate reconstructions. The results will identify factors that localise the timing and distribution of diamondiferous kimberlites, leading to new exploration targeting strategies.
Four-dimensional lithospheric evolution and controls on mineral system distribution in Neoarchaen to Paleoproterozoic terranes
Supported by ARC Linkage Project
Industry Collaborator: WA Department of Mines and Petroleum
CIs: McCuaig, Barley, Fiorentini, Kemp, Belousova, Jessell, Hein, Begg, Tunjic, Bagas, Said
Summary: This project will obtain a better understanding of the evolution, architecture and preservation of continents and their links to mineral deposits between 2.7 and 1.8 billion years ago (a period in Earth history that is endowed with mineral deposits and reflects a very important transition in the evolution of our planet and its biosphere-hydrosphere-atmosphere). By producing and integrating new high quality geophysical and geochemical data and making a major contribution to training students and researchers, the project aims to develop a superior model to help understand Earth's evolution and target areas of high prospectivity for important mineral deposits. The results will be applicable to exploration in Australia and world-wide.
Tectonic evolution and lode gold mineralisation in the Southern Cross district, Yilgarn Craton (Western Australia): a study of the Meso- to NeoArchean missing link
Supported by ARC Linkage Project
Industry Collaborators: Geological Survey of Western Australia
CIs: Barley, McCuaig, Gessner, Miller, Thebaud, Tohver, Doublier, Romano, Wyche, Partner Organisations
Summary: The aim of this project is to unravel the tectonic evolution of gold mineralisation in the Neoarchean 3.0 Ga to 2.6 Ga Youanmi Terrane as a base for a base for an improved metallogenic model for targeting orogenic gold deposits. The objectives of the study are to: 1) define the tectonic and metamorphic evolution of the Southern Cross granite-greenstone belt using a scale-integrated multidisciplinary approach. 2) Contstrain the structural control on gold mineralisation events, their alteration style and timing of emplacement and integrate these into a coherent regional geodynamic event history. 3) Develop a 4D geodynamic model of the Southern Cross district and Youanmi Terrane. 4) Integrate the newly defined Southern Cross structural and mineralisation scheme into the broader context of the evolution of the Youanmi Terrane and Yilgarn Craton.
4D evolution of the Agnew gold field, Yilgarn Craton
Supported by industry
Industry Collaborator: Gold Fields Australia Pty Ltd
CIs: Thebaud, McCuaig, Miller
Summary: This project aims to assess the controls and significance of the variations in the gold systems in the Agnew region of Western Australia. The project is doing 4D reconstruction of the gold deposits by integrating the structural, metamorphic and alteration histories of the various deposits with new geochronology on key phases of the alteration history, structurally constrained intrusive rocks and host rock types. The aim is to use this knowledge in a mineral systems context to aid exploration targeting.
Multiscale dynamics of ore body formation
Supported by ARC Linkage Project
Industry Collaborators: Geocrust Pty Ltd, Geological Survey of Western Australia, Golden Phoenix International Pty Ltd, Mineral Mapping Pty Ltd, Primary Industries and Resources South Australia (PIRSA), Silver Swan Group Ltd, Swiss Federal Institute of Technology Zurich, Vearncombe & Associates Pty Ltd, Western Mining Services (Australia) Pty Ltd
CIs: Gessner, McCuaig, Hobbs, Cawood, Gorczyk, Connolly, Gerya, O'Neill, Lester
Summary: We develop a model for hydrothermal mineralising systems where processes are coupled from the scale of the Earth's lithosphere down to the scale of an ore body. The goal is to define measurable parameters that control the size of such systems and that can be used as mineral exploration criteria. We explore proposals that special lithospheric structural architectures associated with old craton margins are sites for influx of CO2 into the lithosphere so that eventually these architectures control metal sources. At the mineralising site diagnostic features result from strong interaction between deformation, fluid flow, thermal transport and chemical reactions. This system is analysed using the principles of non-equilibrium thermodynamics.
Hydrothermal remobilisation of base metals and platinum group elements in magmatic nickel deposits
Supported by ARC Linkage Project
Industry Collaborator: Minerals and Energy Research Institute of Western Australia
CIs: Fiorentini, Brugger, Barnes, Perring
Summary: Magmatic nickel sulfide deposits are highly valuable but extremely challenging exploration targets, characteristically lacking the distinctive geochemical halos that allow small targets to be identified from sparse drilling. Consequently, undiscovered deposits are highly likely to exist at depth, even in well explored terranes. The remobilisation of metals during post-deposition hydrothermal alteration has the potential to result in large halos, whose recognition could revolutionise exploration for magmatic nickel deposits. In this ARC Linkage project, new field observations are currently being combined with innovative experiments aimed at answering critical questions about the mobility of these metals in H2O-CO2-H2S-Cl fluids in order to develop new exploration models.
---