International links in CCFS
BACKGROUND
CCFS' International links provide leverage of intellectual and financial resources on a global scale, and an international network for postgraduate experience. International Partners provide the core of such collaborations. Other international activity includes funded projects and substantial collaborative programs with major exchange-visit programs in France, Norway, Germany, United Kingdom, New Zealand, Canada, USA, Taiwan, Italy, Spain, South Africa, South America, China, Brazil, Mexico, Japan, Thailand and Russia.


FORMAL MEMORANDA OF UNDERSTANDING (MOU)
Formal MOU between international institutions promote the Centre's collaborative research and facilitate visits by Centre staff and postgraduates as well as joint PhD research projects. CCFS has agreements with the following international institutions:
China University of Geosciences (Wuhan) - 2011 (& Cotutelle)
University of Science and Technology of China, Hefei - 2012 (& Cotutelle)
Institute of Geology and Geophysics, China University of Geosciences (Beijing) - 2014
Institute of Tibetan Plateau Research, CAS (Beijing) - 2014

COTUTELLE MOU
Cotutelle MOU aim to establish deep, continuing relationships with international research universities through joint research candidate supervision. CCFS has agreements with the following international institutions:
China University of Petroleum, Beijing, China
Durham University, United Kingdom
Eötvös Loránd University, Hungary
Friedrich-Alexander-University of Erlangen, Nuremberg, Germany
Institute of Geology and Geophysics, Chinese Academy of Sciences, China
Nanjing University, China
Peking University
Universidad de la Republica, Uruguay
Université Montpellier 2, France
Université Paul Sabatier, France
University Jean Monnet, France
University of Barcelona, Spain
University of Zaragoza, Spain
2014 COLLABORATIVE ACTIVITY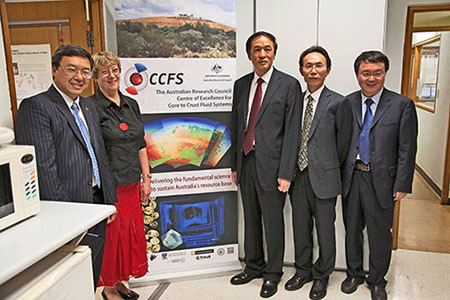 INTERNATIONAL LINKS - 2014 HIGHLIGHTS
A formal Memorandum of Understanding was signed with the Institute of Geology and Geophysics, China University of Geosciences (Beijing). Planned programs include the exchange of staff, joint research activities and the exchange of students.

Professor Jim Lee, DVC International (MQ), Sue O'Reilly, Professor Jun Deng, Professor Zhang Shouting and Professor Chuanheng Zhang (CUG, Beijing).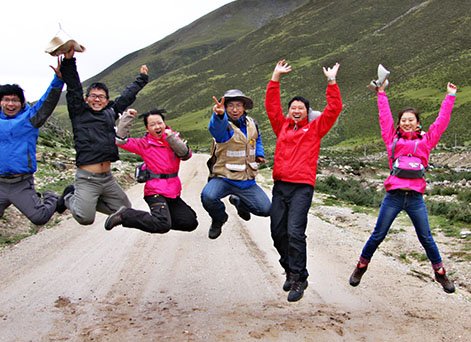 Professor Cam McCuaig was invited by Professor Zeng-qian Hou, Director of the Institute of Geology, Chinese Academy of Geological Sciences (CAGS), to participate in the international project of IGCP/SIDA 600 "Metallogenesis of collisional orogens in the East Tethyside domain". This project (2011-2014) is jointly funded by UNESCO and the Swedish International Development Cooperation Agency (SIDA) and lead by Professor Hou. CCFS participants, Professor Marco Fiorentini, Dr Robert Loucks and Dr Yongjun Lu (CET) are actively collaborating with CAGS under this IGCP framework. This collaboration between CET/CCFS and CAGS involves multi-isotopic mapping in Tibet, experimental and field studies of adakites and associated porphyry Cu systems in Tibet, Pakistan and Iran.
A field session was conducted in Tibet from the 25th August - 10th September 2014 as part of the CCFS Pilot Project "Trace-element partitioning during hydrous melting of lower crust and volatile redistribution by shoshonite: Implications for genesis of post-collisional porphyry Cu deposits in Tibet"
Jump at 4500 m: PhD students and researchers from CAGS in Beijing in Tibet. From left to right, Dr Liming Zhou (CAGS), Dr Rui Wang (CSIRO), Ms Qiuyun Li (PhD, CAGS), Yongjun Lu, Associate Professor Zhiming Yang (CAGS) and Ms Maoyu Sun (MSc, CAGS).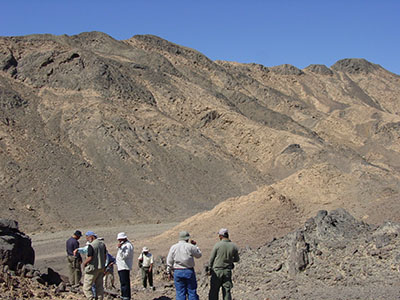 Professor Simon Wilde, Professor Alfred Kröner (University of Mainz) and Dr Kamal Ali (King Abdulaziz University, Saudi Arabia) are collaborating on a project aimed at understanding the range of processes that contribute to crustal growth in the Eastern Desert of Egypt (see field photo above).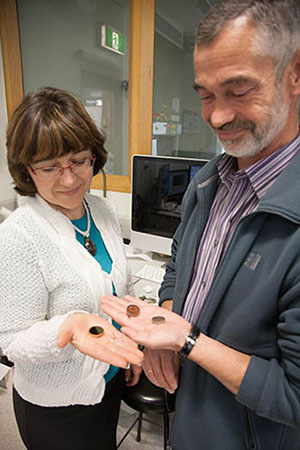 Dr Viktor Kovach from the Institute of Precambrian Geology and Geochronology, Russian Academy of Sciences, St. Petersburg visited CCFS (MQ) in July 2014. The main aim of the visit was to conduct geochronological (U-Pb LA-ICPMS) and Hf isotopic analyses on zircons from plagiogranites and gabbros from the Dunzhugur ophiolite complex, Eastern Sayan, Russia. The Dunzhugur ophiolite complex of the East Sayan region is thought to be the oldest known ophiolite complex in the Central Asian Orogenic Belt (CAOB) and is key to understanding the geodynamics of the CAOB's early stages of formation and evolution.
Elena Belousova and Dr Victor Kovach with zircon mounts from the Dunzhugar ophiolite complex.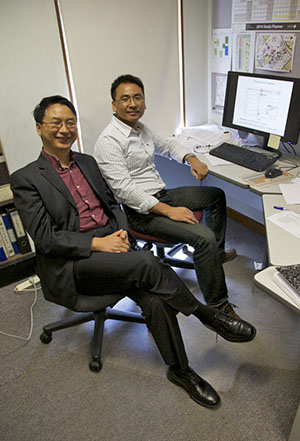 Professor Fenglin Niu (Department of Earth Science, Rice University, Houston, USA) visited Dr Yingjie Yang to begin collaboration on a project entitled "Using H/Z ratio from ambient noise to map shallow surface structures".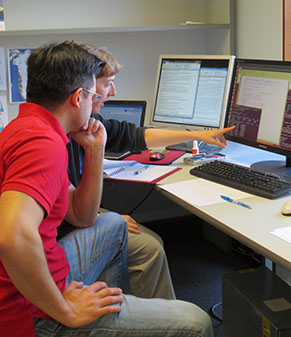 Professor Fiona Darbyshire (pictured left with Juan Carlos) from the Université du Québec à Montréal, visited MQ in June 2014 to work with Drs Juan Carlos Afonso and Yingjie Yang on the application of LitMod codes to study the lithospheric structure of Canada.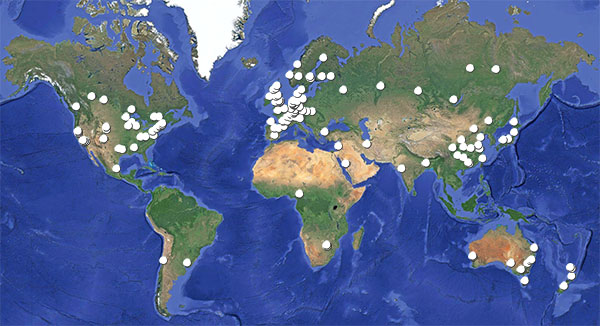 CCFS's International Collaborative Network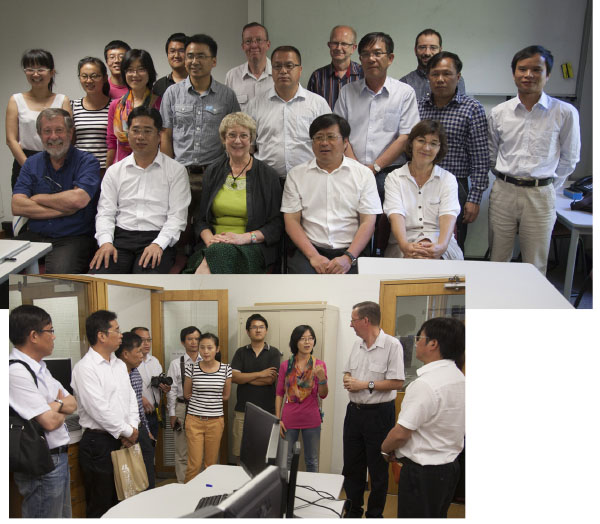 Six representatives from the Guangxi Bureau of Geology & Mineral Prospecting & Exploitation visited CCFS in January 2014 and toured the GAU (MQ). The delegates were interested in setting up research collaborations and reciprocal visits with the centre.
Representatives from the Guangxi Bureau of Geology & Mineral Prospecting & Exploitation. Bottom row (L-R); Bill Griffin, Mr Han Fuli (Chief, No.307 Nuclear Geological Team), Sue O'Reilly, Mr Zhang Mingguo (Deputy Director General), Elena Belousova and the MQ and Guangxi delegation.
On March 31 2014, a delegation of six academics from Tsinghua University of China (pictured below) visited CCFS (MQ). The leader of the delegation was the former Executive Vice President of Tsinghua University (currently Director of the Universities Institute of Low Carbon Economy). The delegates aimed to develop future research collaborations, in the direction of resources sustainability, with the departments of Earth and Planetary Sciences and Environmental Sciences. CCFS representatives, including Jin-Xang Huang, Jun Xie, Jianggu Lu, and visitor Zhen Guo (Peking University of China) accompanied the delegation for a campus tour after official meetings.