International links in CCFS
BACKGROUND
CCFS' International links provide leverage of intellectual and financial resources on a global scale, and an international network for postgraduateexperience. International Partners provide the core of such collaborations. Other international activity includes funded projects and substantialcollaborative programs with major exchange-visit programs in France, Norway, Germany, United Kingdom, New Zealand, Canada, USA, Taiwan, Italy, Spain, South Africa, South America, China, Brazil, Mexico, Japan, Thailand and Russia.
FORMAL MEMORANDA OF UNDERSTANDING (MOU)
Formal MOU between international institutions promote the Centre's collaborative research and facilitate visits by Centre staff and postgraduates as wellas joint PhD research projects. CCFS has agreements with the following international institutions:
China University of Geosciences (Wuhan) - 2011 (& Cotutelle)
Constitution of the International University Consortium in Earth Science - 2012
University of Science and Technology of China, Hefei - 2012 (& Cotutelle)
Institute of Geology and Geophysics, China University of Geosciences (Beijing) - 2014
Institute of Tibetan Plateau Research, CAS (Beijing) - 2014
Helmholtz Centre Potsdam GFZ German Research Centre for Geosciences, Germany - 2015
COTUTELLE MOU
Cotutelle MOU aim to establish deep, continuing relationships with international research universities through joint research candidate supervision. CCFS has agreements with the following international institutions:
China University of Petroleum, Beijing, China
Durham University, United Kingdom
Eötvös Loránd University, Hungary
Friedrich-Alexander-University of Erlangen, Nuremberg, Germany
Institute of Geology and Geophysics, Chinese Academy of Sciences, China
Nanjing University, China
Peking University, China
Universidad de la Republica, Uruguay
Université Montpellier 2, France
Université Paul Sabatier, France
University Jean Monnet, France
University of Barcelona, Spain
University of Zaragoza, Spain
2016 COLLABORATIVE ACTIVITY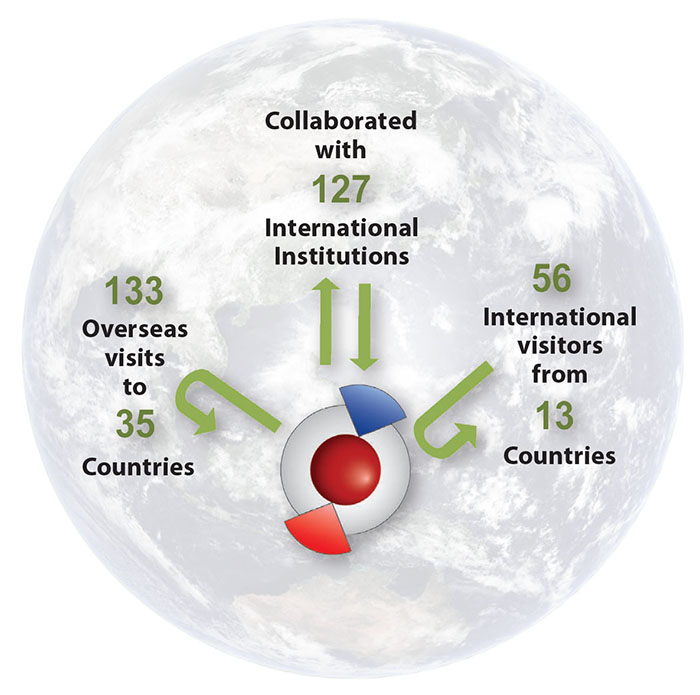 INTERNATIONAL LINKS - 2016 HIGHLIGHTS
Delegates from a range of international institutions visited CCFS in 2016 to discuss programs including the exchange of staff, joint research activities and the exchange of students. These included China University of Geosciences (Wuhan) and China University of Geosciences (Beijing).
Dr Yongjun Lu continues collaboration with the Chinese Academy of Geological Sciences (CAGS) and China University of Geosciences in Beijing (CUGB) to investigate the porphyry copper systems in the Tibetan plateau and surrounding region.
A collaborative project between the Institute of Geology and Geophysics, China University of Geosciences (IGGCAS, Beijing), GSWA and CCFS Macquarie, the China-Western Australia Sesmic Survey (CWAS), will install a 900 km long dense seismic profile across Western Australia from Port Hedland to the southwestern border of the Kimberly Craton. The station spacing is 10-15 km, and the whole CWAS Project will include 80 broadband seismic stations and deployed over 18 months from April 2017 to October 2018. IGGCAS is providing seismic instruments for 60 stations. A test station was successfully installed in October 2016. See Appendix 1, FP7
A collaborative research agreement was signed between the China University of Geosciences (Wuhan) for funding by the Chinese Scholarship Council (CSC). This grant will provide a living allowance for students and visiting scholars in Australia with travel between China and Australia. Students and researchers funded by this project will study and work under the project's aims, integrating geological, geochemical, geophysical and experimental techniques to study the structure, composition, geodynamics and metallogeny of the deep lithosphere and beyond.
Prof Zheng-Xiang Li continued as Co-director of the Australia-China Joint Research Centre for Tectonics and Earth Resources (ACTER). ACTER is a joint research centre led by the Institute for Geoscience Research at Curtin University, and the Institute of Geology and Geophysics of the Chinese Academy of Sciences, with participants from collaborating institutions from the two countries. CET, TIGeR and GEMOC are all Key Australian Partner Institutions. (http://tectonics.curtin.edu.au/)

Participants in the 2016 ACTER annual Field symposium.

ACTER aims to facilitate: collaborative research and research training in geotectonics and mineral and hydrocarbon resources, the exchange of staff and joint supervision of research students, shared access to analytical facilities, organisation of joint conferences and annual focused field-based workshops and the exchange of academic materials and information.

The 2016 ACTER annual field symposium was very successful, focusing on the theme of "Orogenesis during supercontinent cycles". It was held in Xi'an and the adjacent Qinling orogen, China, from 20-29 October 2016. Australia will host the 2017 annual field workshop "Tectonics of the Lachlan fold belt and granite petrogenesis," on the 23-29 October 2017.




In August GEMOC/CCFS and China University of Geoscience- Wuhan collaborated to organise a field trip to the famous UHP terrane in the Western Gneiss Region (WGR) of western Norway, led by Prof Bill Griffin. One primary aim was to study the metastable preservation of igneous and high- grade granulite parageneses as the rocks went through UHP metamorphism during crustal subduction to depths of up to 200 km. Another was to view the evidence for metasomatic refertilisation of ancient depleted mantle via the intrusion of mafic melts; the third was to understand more about the ultra-high-pressure terrane in the northern part of the Western Gneiss Region, and its tectonic exhumation. A local geologist (Johannes Vik Seljebotn) volunteered to organise the logistics and to provide local knowledge all along the route. Seljbotn and Griffin prepared a guidebook with contributions by colleagues from Norway, Holland, the USA and England. The 15 participants met in Bergen on August 14, and were joined by Prof Håkon Austrheim (University of Oslo), an expert on the problem of metastability in high- pressure rocks and the role of water in eclogite-facies metamorphism; he led the first day of the trip and rejoined it for the fourth day. Traversing north through the region, the trip visited a wide spectrum of outcrops and occurrences. An outstanding highlight was the opportunity to study the massive dunite quarries, with their associated garnet peridotites and eclogites, in the Almklov valley. This access was possible thanks to Johannes Seljebotn's close association with the operating company Sibelco. From there the group proceeded further north, where they were joined by another long-time colleague, Prof Herman von Roermund (University of Utrecht, Netherlands) who has worked for many years on the ultra-high- pressure terrane in the the northern part of the WGR. He led the fieldwork for the last two days, showing off many known and some more hidden (and slippery) outcrops. While the Chinese participants may have found western Norway's food (mainly boiled cod and potatoes) somewhat strange, it did not deter their enthusiasm, and many kilos of Norwegian eclogites and peridotites are now safely resting in Wuhan. Truly a successful international collaboration.

Scenes from the CCFS-Wuhan Field trip to the UHP terrane in the Western Gneiss Region of western Norway - Johannes Vik Seljebotn is hard to miss in the hi-vis vest and far right in the group photo; his partner Eline brought her cello and performed Bach sonatas in a quarry that provided excellent acoustics. Above, Herman von Roermund (second from left) explains some of the samples. (photos curtesy of Johannes Vik Seljebotn and Will Powell)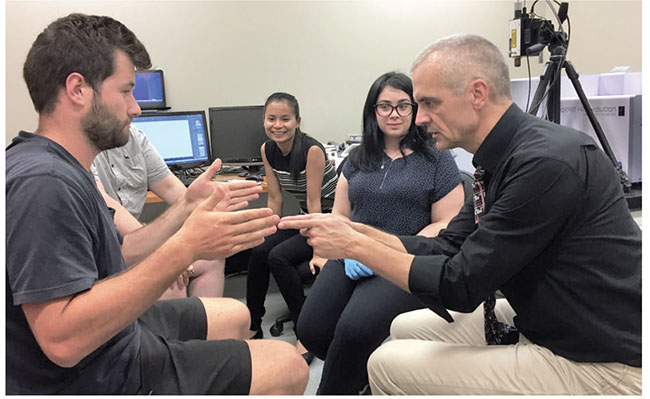 A four day shortcourse on Raman Spectrometry was held from the 28th November to December 1st 2016. The course was hosted by Macquarie University and sponsored by CCFS, Horiba Jobin Yvon and Quarkphotonics (thank you sponsors). The shortcourse was led by Professor Lutz Nasdala (University of Vienna, pictured above right), one of the leading Raman spectroscopy experts in the Earth Sciences community worldwide. Professor Nasdala was assisted by postdoctoral researcher Dr Chutimun Chanmuang (University of Vienna, pictured above centre). Twenty three participants from across the Faculty and CCFS attended.
In March 2016, CCFS sponsored Dr Richard Carlson, the Mineralogical Society of America 2016 Distinguished Lecturer and Director Carnegie Institution, Washington, to give a general lecture at MQ. His talk was entitled "A History of Earth Formation". After the lecture, Dr Carlson held a mentoring session with HDR students and ECRs.
CCFS has collaborated with the ion-microprobe laboratories at IGG-CAS (Dr Li Xianhua) to develop standards for the analysis of oxygen isotopes in Cr-bearing and Ca-rich garnets; this was necessary because the SIMS technique is sensitive to matrix effects arising from compositional differences between sample and standard. Another important development was the development of a synthetic standard SiC, which now enables the in situ analysis of both Si isotopes (a world-first) and C isotopes in natural SiC. This development was supported by Dr Paul Savage and Dr Anita Andrews, who analysed the Si isotopes and C isotopes, respectively, of the standard material by 'conventional' means. A survey of SiC from Russian kimberlites, Tibetan ophiolites and Israeli basalts has been completed and will be published in 2017. In a new project, IGG-CAS and CCFS are developing standards that will allow the in situ analysis of Ti isotopes in a variety of matrices, to investigate the isotopic fractionation of Ti as a function of oxygen fugacity.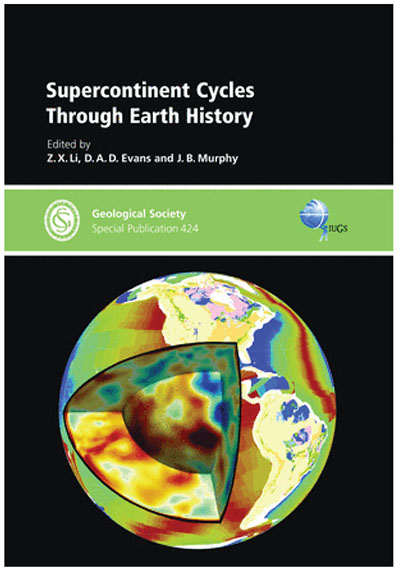 The UNESCO-IUGS IGCP Project 648, Supercontinent cycles and global geodynamics continued in 2016. The project brings together a diverse range of geoscience expertise from around the world, including three CCFS CIs, to explore the occurrence and evolution history of supercontinents through time and construct global databases of geotectonics, mineral deposits and the occurrences of past mantle plume events. An important output in 2016 was the publication of the CCFS sponsored book: Li, Z.-X., Evans, D.A.D. and Murphy, J.B. 2016. Supercontinent Cycles Through Earth History. Geological Society, London, Special Publications, 424, 297pp.
CCFS fosters many of its international links through visits by collaborators to undertake defined short-term projects, or short-term visits to give lectures and seminar sessions. CCFS sponsored exchange PhD students and visiting researchers are featured here.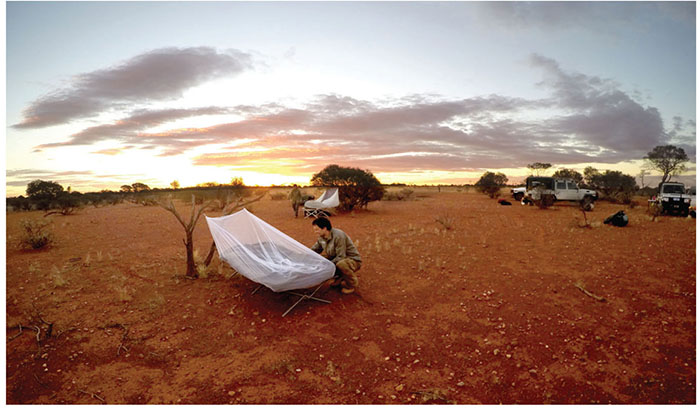 CET/GSWA organised a geological mapping field trip with Greenland geologists - Sunset over camp in the Bryah Padbury Basin, Capricorn Orogen. (photo: Heta Lampinen)
CCFS fosters many of its international links through visits by collaborators to undertake defined short-term projects, or
short-term visits to give lectures and seminar sessions.
International visitors are listed in Appendix 7.
---