International links in CCFS
BACKGROUND
CCFS' International links provide leverage of intellectual and financial resources on a global scale, and an international network for postgraduate experience. International Partners provide the core of such collaborations. Other international activity includes funded projects and substantial collaborative programs with major exchange-visit programs in France, Norway, Germany, United Kingdom, New Zealand, Canada, USA, Taiwan, Italy, Spain, South Africa, South America, China, Brazil, Mexico, Japan, Thailand and Russia.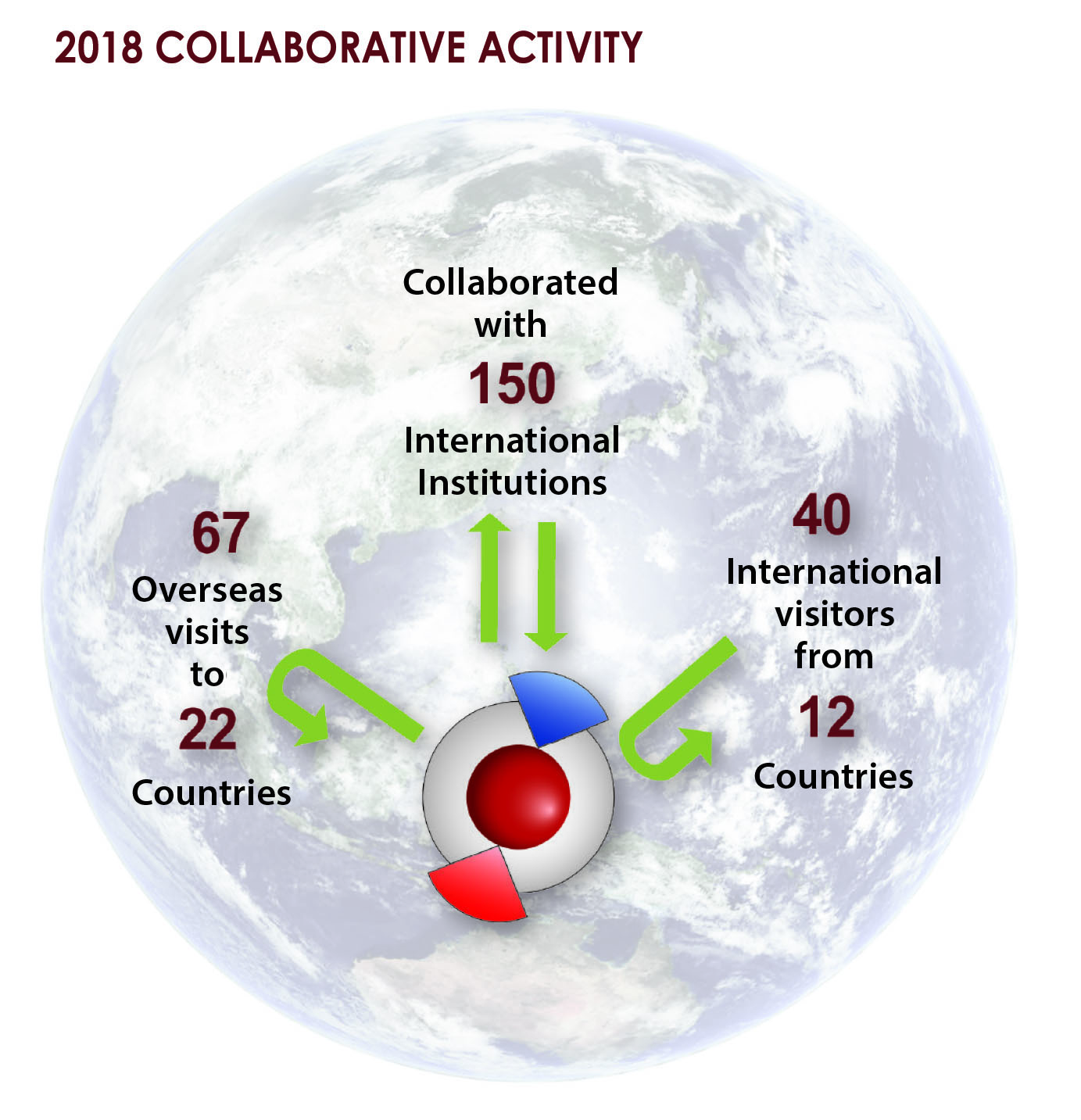 FORMAL MEMORANDA OF UNDERSTANDING (MOU)
Formal MOU between international institutions promote the Centre's collaborative research and facilitate visits by Centre staff and postgraduates as wellas joint PhD research projects. CCFS has agreements with the following international institutions:
China University of Geosciences (Wuhan) - 2011 (& Cotutelle)
Constitution of the International University Consortium in Earth Science - 2012
University of Science and Technology of China, Hefei - 2012 (& Cotutelle)
Institute of Geology and Geophysics, China University of Geosciences (Beijing) - 2014
Institute of Tibetan Plateau Research, CAS (Beijing) - 2014
Helmholtz Centre Potsdam GFZ German Research Centre for Geosciences, Germany - 2015
COTUTELLE MOU
Cotutelle MOU aim to establish deep, continuing relationships with international research universities through joint research candidate supervision. CCFS has agreements with the following international institutions:
China University of Petroleum, Beijing, China
Durham University, United Kingdom
Eötvös Loránd University, Hungary
Friedrich-Alexander-University of Erlangen, Nuremberg, Germany
Nanjing University, China
Pierre and Marie Curie University, PARIS VI
Peking University, China
São Paulo University, Brazil
University of Barcelona, Catalonia, Spain
Universidad de la Republica, Uruguay
Université Montpellier 2, France
Université Paul Sabatier, France
University Jean Monnet, France
University of Zaragoza, Spain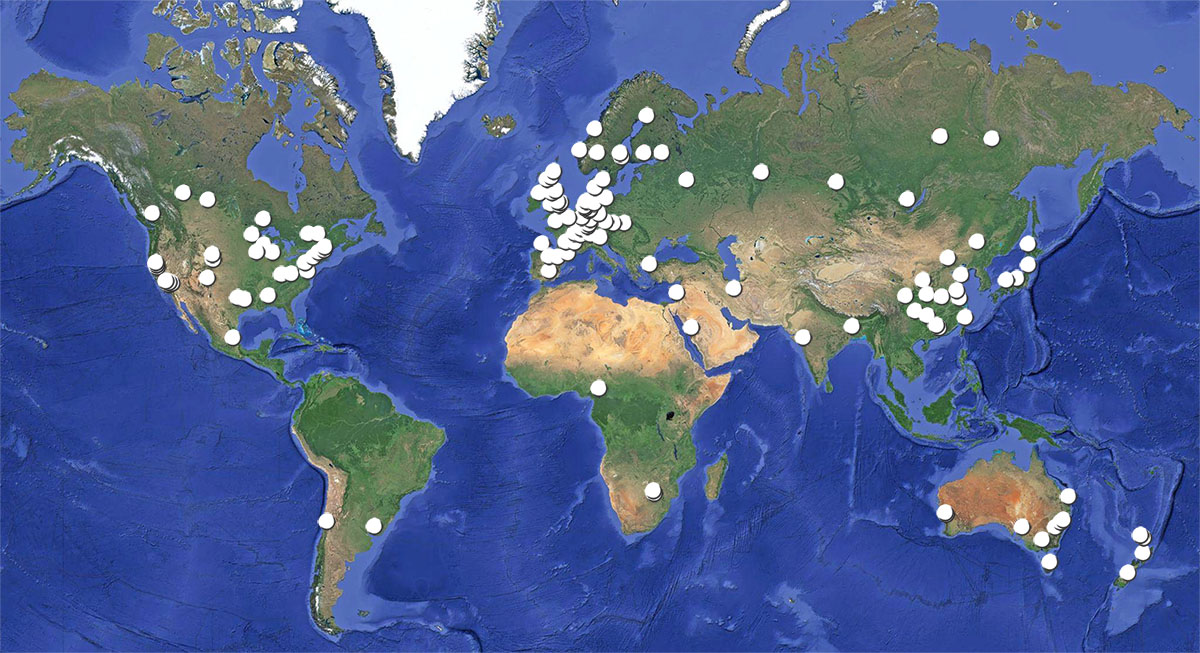 CCFS INTERNATIONAL COLLABORATIVE NETWORK
INTERNATIONAL LINKS - 2019 SELECTED HIGHLIGHTS
Professor Zengqian Hou, Vice President of the National Natural Science Foundation of China (NSFC) visited Australia from February 11-15 2019. Professor Hou met to discuss Australia-China Earth Science research collaboration with key government and opposition resource leaders, Geoscience Australia, ARC administrators and AuScope, accompanied by Australian Academy of Science representatives (and CCFS participants, Sue O'Reilly and Phil McFadden). The NSFC delegation also included Mr Wang Qiang, Counsellor for Science and Technology Affairs at the Chinese Embassy in Australia, Dr Fan Yingjie of the Bureau of International Cooperation and Dr Yupeng Yao, Deputy Director of the Department of Earth Science, National Natural Science Foundation of China (NSFC)(see pictures).

In July, Prof Sue O'Reilly, Joanna Bunting and Hongyu Chen (Australian Embassy in China) attended a meeting in Beijing with members of the National Natural Science Foundation, the Chinese Academy of Geological Sciences and China University of Geosciences (Beijing). The meeting aimed to explore frameworks and mechanisms for collaboration in geoscience. Among the items discussed were the Sinoprobe Program, China's Deep-Earth Exploration project and possible opportunities for China to collaborate within the framework of the UNCOVER initiative. During the meeting, Professor Hou noted that the delegate visit to Australia had laid a solid foundation for bilateral cooperation.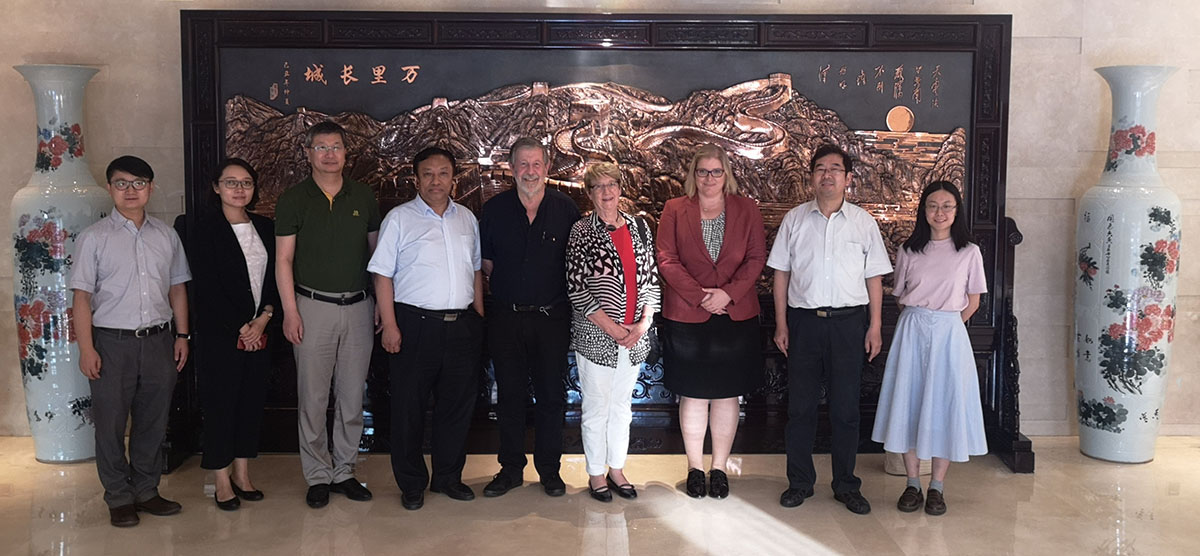 Meeting with members of the Australian Embassy in China, the National Science Foundation China, the Research Center on Deep Exploration (CAGS) and China University of Geoscience Beijing. From left to right: Bo Xu (CCFS & CUG Beijing), Jing Chen, Yu-Peng Yao, Zeng-Qian Hou (NSFC), Bill Griffin, Sue O'Reilly (CCFS), Joanna Bunting (Counselor, Australian Embassy in China), Qing-Tian Lu (CAGS) and Hongyu Chen (Australian Embassy in China).
A collaborative project between the Institute of Geology and Geophysics, China Academy of Science, Beijing (IGG CAS), CCFS, Geoscience Australia (GA), and ANSIR (Australian facilities for Earth sounding) resulted in a 4-year passive seismological deployment (China-Western Australia Seismic survey - CWAS) along a 900 km profile across Western Australia from Port Hedland to the southwestern border of the Kimberly Craton. 80 broadband seismic stations were established and extended beyond the continent margin in the Canning Basin using ocean-bottom seismometers (CANPASS).

Phase 2 was completed successfully in September 2018. Colleagues and students from the GSWA, IGC CAS and CCFS "in-filled" the Phase 1 deployment with 38 broadband portable seismic stations which started recording late 2017. Combining stations from CANPASS, early portable deployments by ANU and permanent networks of GA and the German GEOFON program, the CWAS project provided an exciting opportunity to seismically map the crust and lithosphere architecture beneath both onshore and offshore regions of the Canning.

A major task of the seismic component was to wrap up a major field campaign in late November 2019 in which 60 broadband temporary stations were deployed for over a year in the Canning region (the Canning Seismic project). The collected data will be analysed in 2020 to develop seismic velocity models of the crust and the shallow upper mantle which will put tighter constraints to regional tectonic development and provide background (deep) knowledge for resources exploration purposes.

A collaboration to deploy semi-permanent real-time seismic stations along the Canning coastal area was carried out with GA to improve the national network coverage in the region, which will improve the capability in hazard assessment and structural imaging. A related Chinese NSF proposal funded in 2019, commencing in 2020, will expand the Canning project into the Archean cratonic regions. This 4-year project will also seek opportunities to put a second Ocean Bottom Seismic Array offshore of the Canning coastal region.

Delegates from a range of international institutions visited CCFS in 2019 to discuss programs including the exchange of staff, joint research activities and the exchange of students (see Visitors list, Appendix 5).
A collaborative research agreement continued with the China University of Geosciences (Wuhan) with funding by the Chinese Scholarship Council (CSC). This grant provides a living allowance and travel between China and Australia for students and visiting scholars. Students and researchers funded by this project will study and work under the project's aims, integrating geological, geochemical, geophysical and experimental techniques to study the structure, composition, geodynamics and metallogeny of the deep lithosphere and beyond.
Prof Zheng-Xiang Li continued as Co-director of the Australia-China Joint Research Centre for Tectonics and Earth Resources (ACTER). ACTER is a joint research centre led by the Institute for Geoscience Research at Curtin University, and the Institute of Geology and Geophysics of the Chinese Academy of Sciences, with participants from collaborating institutions from the two countries. CET, TIGeR and GEMOC are all Key Australian Partner Institutions (More information here).

ACTER aims to facilitate collaborative research and research training in geotectonics and mineral and hydrocarbon resources, the exchange of staff and joint supervision of research students, shared access to analytical facilities, the organisation of joint conferences and annual focused field- based workshops and the exchange of academic materials and information.

CCFS Director, Professor Sue O'Reilly, is a group leader of UNESCO-IUGS IGCP 662 project aimed at providing insights on current global issues and supported by the International Geoscience Programme (IGCP) (more information here). IGCP 662: "Orogenic architecture and crustal growth from accretion to collision" aims to conduct comparative studies of several types of orogens (accretionary and collisional) to better understand the dynamics of Earth's crust, and the genesis and distribution of mineral deposits (metallogenesis). It will include a comparative study of the Central Asian Orogenic Belt (CAOB); one of the world's largest accretionary orogens spanning six nations and evolving over some 800 million years, the Tethyan orogenic belt; the world's youngest extensive collisional and metallogenic belt, and other composite orogens. The project included participants from more than 143 countries with diverse socio-economic and political contexts.

Second workshop and field excursion of IGCP662, Mongolia, 4-10 July 2019.
The second IGCP 662 workshop was held successfully on the 4-10 July 2019 in Ulaanbaatar, Mongolia. Sue O'Reilly delivered an invited talk. It also included a field trip "Gobi-Altai accretionary orogeny". IGCP 662 project information and upcoming events are available here.

The UNESCO-IUGS IGCP 648 project "Supercontinent cycles and global geodynamics" continued in 2019. The project brings together a diverse range of geoscience expertise from around the world, including three CCFS CIs, to explore the occurrence and evolution history of supercontinents through time and construct global databases of geotectonics, mineral deposits and the occurrences of past mantle plume events.

IGCP 648 Database Workshop 2019 was held in Perth from the 24-30 March 2019.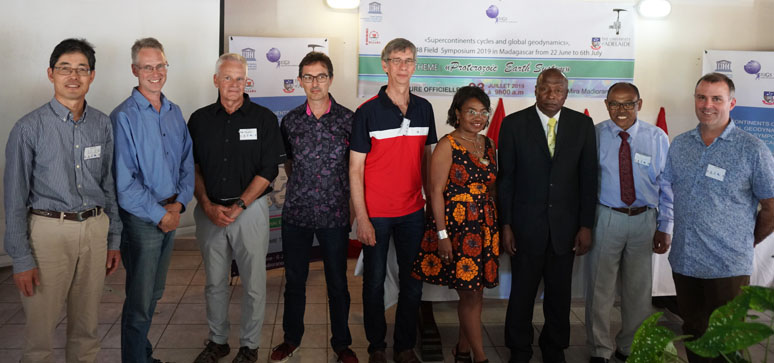 IGCP 648 2019 Workshop, Ifaty, Madagascar.
IGCP 648 2019, co-led by Zheng-Xiang Li, organised the Field Symposium "Geological transect of Madagascar" held from Berforona to Toliara, Madagascar (pictured). For more information visit here.

Zheng-Xiang Li has established new collaborative ties with researchers at the University of Liverpool studying the evolution of the Earth's magnetic field through time. A field trip to the Bangamall Basin was conducted in June-July with Prof Andy Biggin (pictured).

Prof Andy Beggin

Steve Foley visited GUKO Sondermaschinenbau GmbH, Uslar in Germany, manufacturers of the two new piston-cylinder presses installed in Macquarie's high-pressure laboratory in 2019. The instruments are prototypes and have new features and software that is still under development.
A collaboration with the University of Oslo via the multi-institution ESA-funded project "3D Earth" continued and was completed at the end of the year. Researchers from the two centres of excellence CCFS and The Centre for Earth Evolution and Dynamics (CEED, Norway) joined forces to create a world reference lithospheric model and a high resolution thermochemical model of the North Atlantic region, including Greenland and parts of continental Europe.
Marco Fiorentini continued international collaborations with:

University of Milan, Italy: Marilena Moroni and Massimo Tiepolo on the Ivrea Zone (Italy) and the role of volatiles in magmatic systems
Moscow State University, Russia: Alexey Ariskin on the genesis of Ni-Cu-PGE mineralisation in the Dovyren layered intrusion, Russia
Siberian Branch of the Russian Academy of Science, Irkutsk, Russia: work to establish the nature of the volatiles in the Siberian Traps
University of Bologna, Italy: ongoing work on the nature of the sulfur cycle in magmatic arcs
University of Leicester, UK: David Holwell on the Ivrea Zone (Italy), the role of volatiles in magmatic systems, and the Munali Ni-Cu-PGE deposit
ETH, Switzerland: Andrea Giuliani on metasomatism of the lithospheric mantle
Tokyo Institute of Techonology, Japan: Yuichiro Ueno on multiple sulfur isotope characterisation of Archean magmatism
International visitors are listed in Appendix 5.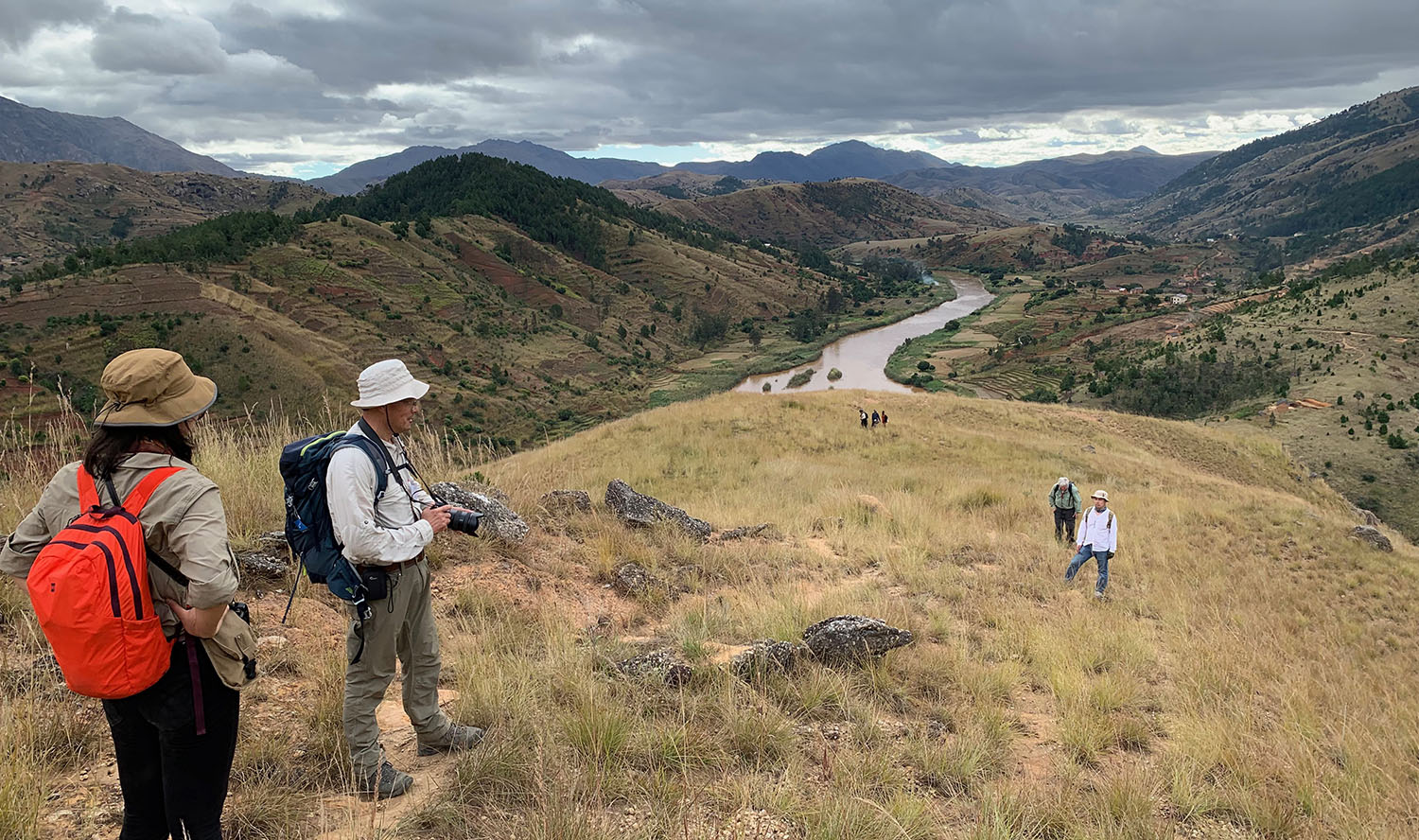 IGCP 648 2019 Field Symposium "Geological transect of Madagascar" (photo Z.X. Li)
---