Participants
Organisations
Administering Organisation
Macquarie University (MQ)
Collaborating Organisations
Curtin University (CU)
University of Western Australia (UWA)
Partners
Australian Partner
Geological Survey of Western Australia (GSWA)
Dr Ian Tyler - CCFS Leader GSWA
International Partners
CNRS and Université de Montpellier, France
Institute of Geology and Geophysics, Chinese Academy of Sciences, Beijing, China
University of Maryland, USA
University of Saskatchewan, Canada
Bayreuth University, Germany
Chief Investigators
Associate Professor Elena Belousova - MQ
Professor Simon Clark - MQ
Associate Professor Marco Fiorentini, Node Leader - UWA
Professor Stephen Foley, Research Coordinator - MQ
Emeritus Professor William Griffin - MQ
Professor Matt Kilburn - UWA
Professor Zheng-Xiang Li - CU
Associate Professor Alexander Nemchin - CU
Associate Professor Craig O'Neill - MQ
Professor Suzanne Y. O'Reilly, Director - MQ
Professor Martin Van Kranendonk - University of NSW
Professor Simon Wilde, Node Leader - CU
Associate Professor Yingjie Yang - MQ
Partner Investigators
Australian Partner Investigator
Dr Klaus Gessner - Geological Survey of Western Australia
Professor T. Campbell McCuaig - BHP Billiton
International Lead Partner Investigators
Professor Michael Brown - Maryland
Dr David Mainprice - Montpellier
Professor Catherine McCammon - Bayreuth
Professor Fuyuan Wu - CAS Beijing
Associate Investigators
Professor Juan Carlos Afonso - MQ
Dr Olivier Alard - MQ
Associate Professor Nathan Daczko - MQ
Dr Richard Glen - MQ Adjunct Professor
Dr Masahiko Honda - Australian National University
Professor Dorrit Jacob - ANU
Associate Professor Mary-Alix Kaczmarek – University Paul Sabatier Toulouse III
Associate Professor Christopher Kirkland - CU
Professor Jochen Kolb - GEUS
Dr Yongjun Lu - GSWA
Professor Louis-Noel Moresi - University of Melbourne
Professor Steven Reddy - CU
Dr Svyatoslav Shcheka - MQ
Associate Professor Bruce Schaefer - MQ
Dr Michael Wingate - GSWA
Professor Shijie Zhong - University of Colorado, Boulder, USA
A full list of 2021 CCFS participants is given in Appendix 2.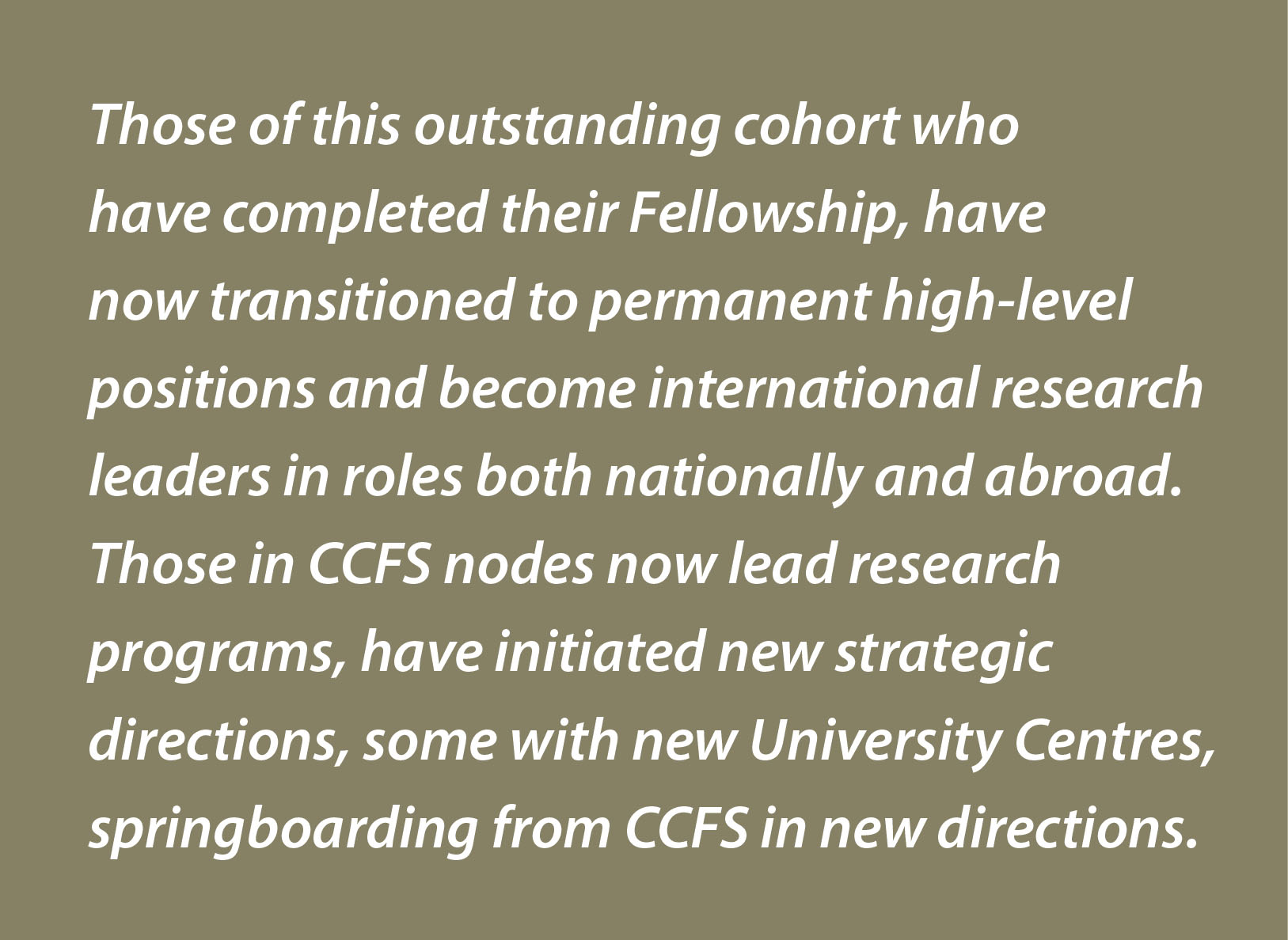 CCFS FUTURE FELLOWS
The application for the CoE CCFS foreshadowed that such a Centre of Excellence would become an attractor for rising stars and research leaders in relevant disciplines and fields of interest. The success of CCFS participants in the ARC Future Fellow rounds emphasises this role of our Centre in recruiting high-flyers at early to mid-career levels. Eleven Future Fellows; Associate Professor Elena Belousova, Associate Professor Marco Fiorentini, Dr Heather Handley, Professor Dorrit Jacob, Associate Professor Craig O'Neill, Professor Sandra Piazolo, Associate Professor Yingjie Yang, Dr Xuan-Ce Wang, Dr David Wacey, Dr Olivier Alard and Dr Kate Selway, have completed or are working on projects relevant to CCFS goals. The CCFS Future Fellows all continue to make significant contributions to CCFS, either directly or as external collaborators and Associates. Their profiles can be accessed from the "Participants" section of our previous reports.
EARLY CAREER RESEARCHERS (ECR)
The second primary goal of CCFS (see Goals) concerns the recruitment, development and mentoring of Early Career Research (ECR) staff "for the development of the next generation of Australia's geoscientists".
CCFS ECRs have all achieved high positions, both nationally and abroad, and are having significant impact across many countries including Japan, Spain, Chile, USA, Europe and Asia. They are contributing in diverse areas that include: the nuclear science and environmental sector, CSIRO, Geological Surveys, international Research Centres, Government instrumentalities, the exploration industry and in consultancies in the private sector.
Future Fellow and ECR profiles can be accessed from the Participants section of our previous reports.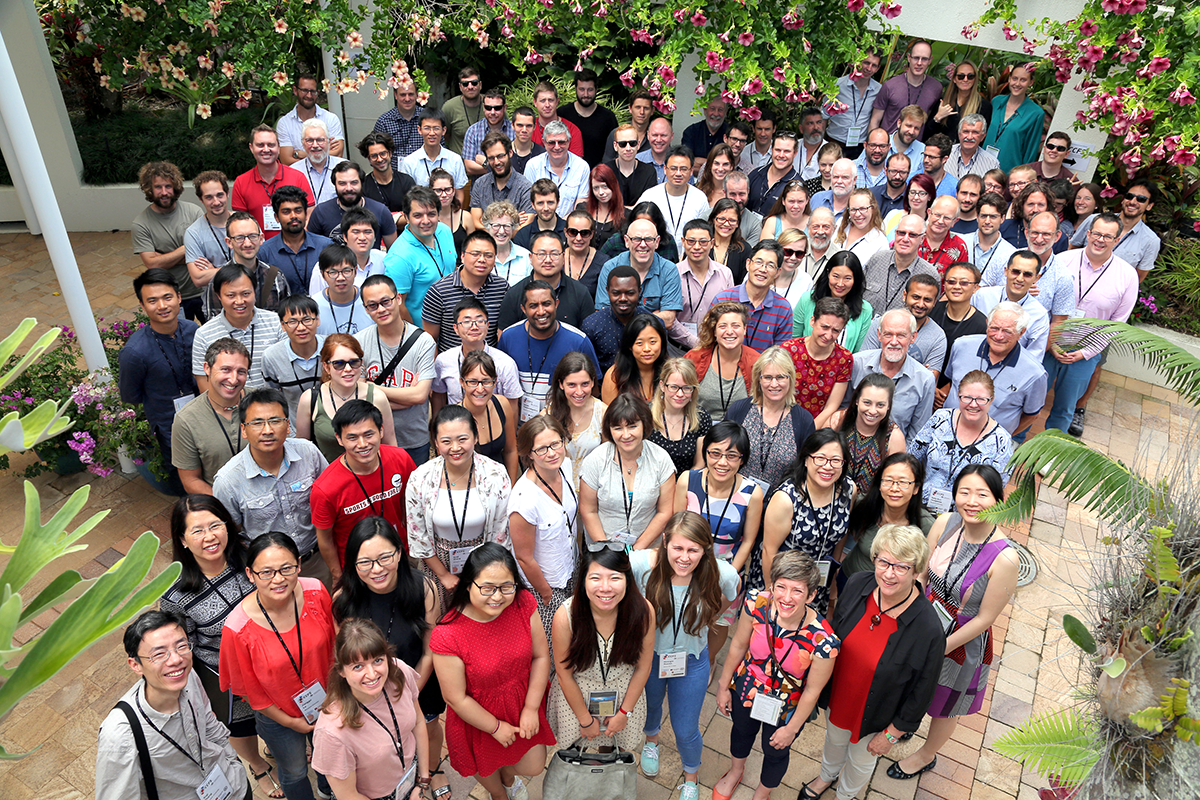 CCFS Participants at the 2017 Whole-of Centre Meeting, Cairns (photo Will Powell).