Melissa Murphy
BSc (hons) Macquarie University
Postgraduate Student

Contact Details

Office : E6D
Phone : 61-(0)2-9850 4400
Fax : 61-(0)2-9850 6904
email : melissa.murphy@mq.edu.au

Supervisors: Simon Turner, Bruce Schaefer and Anthony Dosseto

Melissa Murphy
GEMOC, Department of Earth and Planetary Sciences
Macquarie University NSW, 2109
AUSTRALIA
RESEARCH INTERESTS
Geochemical instrumentation, analysis and techniques
Method development
Hydrogeochemistry
Economic geology
PROFILE
I commenced my current PhD in March 2009 as part of the U-series research group in the ARC National Key Centre for Geochemical Evolution and Metallogeny of Continents (GEMOC) at Macquarie University under the supervision of Prof. Simon Turner, Dr. Bruce Schaefer and Dr. Tony Dosseto.
PAST RESEARCH
My honours research investigated the provenance of volcaniclastic sandstones deposited in an active mid oceanic ridge environment, using a combination of major and trace element clinopyroxene and zircon geochemistry, and U-Pb geochronology; thesis entitled "Petrography and geochemistry of oceanic crust: Provenance of sedimentary detritus, Macquarie Island."
Current research
Australia is host to the some of the world's largest known recoverable resources of uranium, of which we have only began to scratch the surface. The recent resurgence in uranium exploration reflects global demand, and the present high market price of U. The challenge in exploration is now to develop techniques for low environmental impact prospecting for uranium mineralisation at depth.
My PhD research is focused on the Beverley sedimentary uranium system, South Australia which is currently being exploited by in-situ leaching (ISL), and the adjacent Four Mile prospect which is presently the subject of intense exploration drilling but have not yet been modified by mining activities.
My research aims to evaluate the viability of using U-series isotopes as an exploration tool for U mineralisation, characterise the uranium minerals, and to improve our knowledge of the behaviour of U and its decay products during transport and solid-fluid interactions in an environment where both known and potential U ore deposits are located.
Groundwater sample will be collected along the groundwater flow and analysed for U and Th concentrations, (234U/238U), (230Th/234U) and (230Th/232Th) activity ratios. Results will be used to assess the viability of using combined variations in concentrations and isotopic ratios to identify the location of the high-grade U deposit, and subsequently the use of U-series isotopes as a vector for U mineralisation. Rock samples containing uranium minerals will also be analysed for U and Th concentrations, (234U/238U), (230Th/234U) and (230Th/232Th) activity ratios in order to constrain the age of the mineralization in order to gain an improved understanding of the timing and conditions of formation and the evolution of the Beverley/ Four Mile U deposits.
PUBLICATIONS
Murphy M., Portner R., Daczko N., Dickinson J. and Allchurch, S., 2008. "Provenance of Ophiolitic Sand: Comparison of Ancient and Modern Sand." Australia Earth Sciences Convention, Perth, Australia.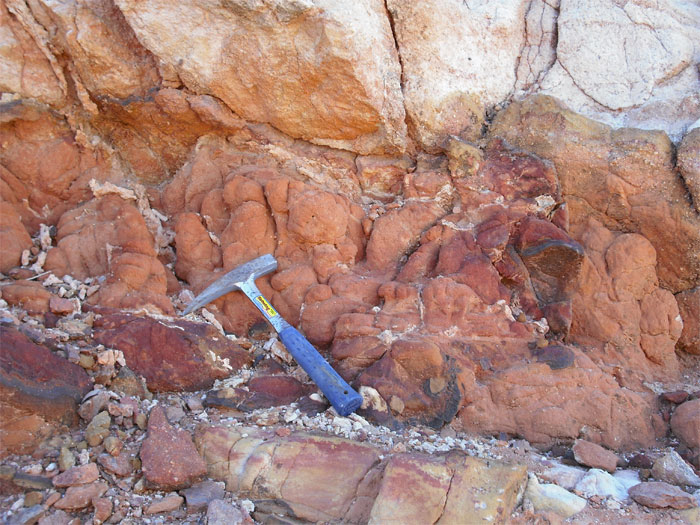 Figure 1: Small relict roll-front, preserved as ferricrete.