Participants
Organisations
Administering Organisation
Macquarie University (MQ)
Collaborating Organisations
Curtin University (CU)
University of Western Australia (UWA)
Partners
Australian Partner
Geological Survey of Western Australia (GSWA)
Dr Ian Tyler - CCFS Leader GSWA
International Partners
CNRS and Université de Montpellier, France
Institute of Geology and Geophysics, Chinese Academy of Sciences, Beijing, China
University of Maryland, USA
University of Saskatchewan, Canada
Bayreuth University, Germany
Chief Investigators
Dr Elena Belousova - MQ
Associate Professor Simon Clark - MQ (from 2014)
Professor Marco Fiorentini - UWA
Professor Stephen Foley, Research Coordinator - MQ
Professor William Griffin - MQ
Professor Matt Kilburn - UWA (from 2014)
Professor Zheng-Xiang Li - CU
Professor T. Campbell McCuaig, Node Leader - UWA
Associate Professor Alexander Nemchin - CU
Associate Professor Craig O'Neill - MQ
Professor Suzanne Y. O'Reilly, Director - M
Associate Professor Norman Pearson - MQ
Professor Martin Van Kranendonk - University of NSW
Professor Simon Wilde, Node Leader - CU

Partner Investigators
Australian Partner Investigator
Dr Klaus Gessner - Geological Survey of Western Australia
International Lead Partner Investigators
Dr David Mainprice - Montpellier
Professor Fuyuan Wu - CAS Beijing
Professor Michael Brown - Maryland
Professor Catherine McCammon - Bayreuth
Associate Investigators
Dr Juan Carlos Afonso - MQ
Dr Olivier Alard - Universite de Montpellier, France
Dr Leon Bagas - CET, UWA
Professor Mark Barley - UWA
Dr Christopher Clark - CU
Assistant Professor John Cliff - CMCA UWA
Associate Professor Nathan Daczko - MQ
Professor Simon George - MQ

Dr Richard Glen - NSW Geological Survey
Dr Masahiko Honda - Australian National University
Associate Professor Dorrit Jacob - MQ
Dr Chris Kirkland - GSWA (2014, CU 2015)
Professor Jochen Kolb - Geological Survey of Denmark and Greenland
Professor Louis-Noel Moresi - (formerly Monash, now University of Melbourne)
Associate Professor Sandra Piazolo - MQ
Professor Steven Reddy - CU
Associate Professor Tracy Rushmer - MQ
Dr Bruce Schaefer - MQ
Professor Paul Smith - MQ
Professor Simon Turner - MQ
Dr Michael Wingate - GSWA
Dr Yingjie Yang - MQ
Professor Shijie Zhong - University of Colorado, Boulder, USA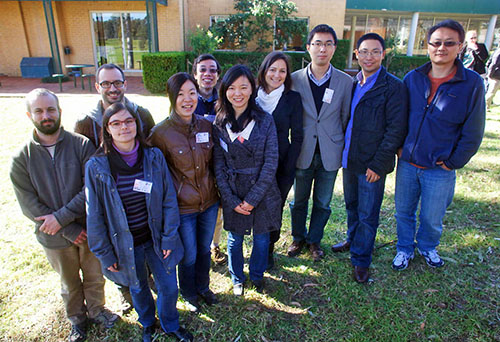 CCFS early-mid career researchers at the July CCFS Research Meeting.
ECSTARS
Dr Bénédicte Abily - MQ
Dr Takako Satsukawa - MQ
Dr Xuan-Ce Wang - CU
Early Career Researchers
Dr Leon Bagas - UWA
Dr Yoann Gréau - MQ
Dr Daniel Howell - MQ
Dr Jin-Xiang Huang - MQ
Dr Marek Locmelis - UWA
Dr Yongjun Lu - UWA
Dr David Mole - CU
Dr Edward Saunders - MQ
Dr Zoja Vukmanovic - CU
Dr Weihua Yao - CU
Dr Siqi Zhang - MQ
Dr Andrea Giuliani - MQ (announced as DECRA to commence 2015)
plus the ECSTARS (above)
A full list of CCFS participants is given in Appendix 4 and at http://ccfs.mq.edu.au/Participants/Participants.html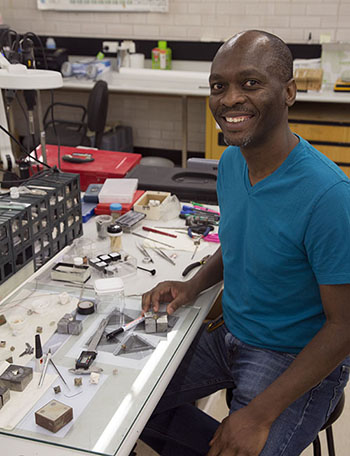 NEW STAFF
Dr George Amulele joined the CCFS in December 2014 as an ARC funded Research Associate after six years at Yale University, working as a laboratory manager in the Department of Geology and Geophysics. Prior to this, he completed his PhD in physics (University of the Witwatersrand, Johannesburg) and went on to complete two postdoctoral fellowships at the University of Hawaii and Stanford University.
During his time at Yale, George contributed to a number of successful research projects (in the laboratories of Professor
Shun Karato and Professor Kanani Lee), in multi-anvil deformation and diamond anvil high-pressure and temperature systems up to conditions similar to those proposed in the lower mantle. He will be working closely with Associate Professor Simon Clark, Professor Stephen Foley and Associate Professor Tracy Rushmer to develop high-pressure facilities at the CCFS as well as engage in research on the physics and chemistry of mantle and deep earth minerals. His research interests include deformation, behaviour of volatiles and electrical conductivity in mantle minerals.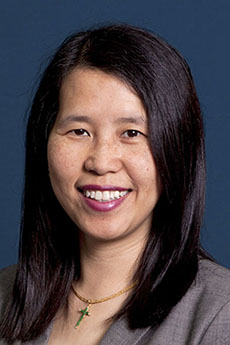 Ms Magdalene Wong-Borgefjord joined CCFS in July 2014 as Chief Operating Officer. Magdalene has more than 15 years experience in administrative and customer-focused roles in the Higher Education Sector. Magdalene spent the last four years managing the start up of two research centres at the University of Western Sydney. Her experience also includes financial, human resources, project and research management, coordinating new international academic programs and international relationships as well as providing administrative support to student, academics and senior executives. Magdalene also has four years overseas experience, coordinating the opening of international hotels in Hong Kong.
Magdalene has a Master of Education and Work from Macquarie University as well as a Bachelor of Business Degree with majors in Marketing and Management from the Australian Catholic University.
Other new staff (featured in our ECR section)...
Dr Benedicte Abily
Dr Weihua Yao
CCFS FUTURE FELLOWS
The application for the CoE CCFS foreshadowed that such a Centre of Excellence would become an attractor for rising stars and research leaders in relevant disciplines and fields of interest. The success of CCFS participants in the ARC Future Fellow rounds emphasises this role of our Centre in recruiting high-flyers at early to mid-career levels. Seven Future Fellows, Dr Elena Belousova, Professor Marco Fiorentini, Dr Heather Handley, Associate Professor Dorrit Jacob, Associate Professor Craig O'Neill, Associate Professor Sandra Piazolo and Dr Yingjie Yang have projects relevant to CCFS goals and are profiled in the Participants section of our previous reports. Two Future Fellowships were awarded in 2014 to Dr Xuan-Ce Wang and Dr David Wacey.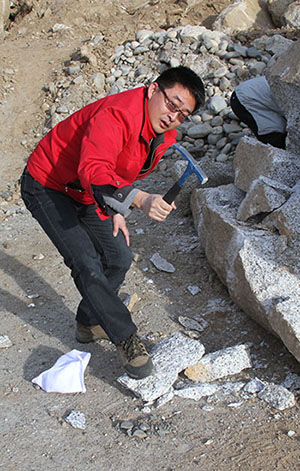 Dr Xuan-Ce Wang is a geochemist. He took his Master of Science at the China University of Geosciences in 2004 and completed his PhD in 2008 at the Guangzhou Institute of Geochemistry, Chinese Academy of Science. In 2008, Xuan-Ce joined the Institute of Geology and Geophysics, Chinese Academy of Science, as a postdoctoral fellow. He then held a senior research fellow position and was an ARC CCFS ECSTAR at Curtin University at Perth. In 2015, he took up an ARC Future Fellowship. His primary research interests lie in: (1) Understanding the origin and evolution of the Earth's crust and mantle by using isotope and major and trace element geochemistry, petrology, field geology and simple geodynamic models and by investigating the relationships between intra-continental geotectonic phenomena, plate tectonics, mantle plumes, deep-Earth fluid cycling, and supercontinents; (2) Examining roles of deep-Earth fluid cycling in intra-continental magmatic and tectonic events by studying continental flood basalts and rift-related basalts; (3) Deciphering early Earth processes and subsequent mantle evolution by studying Archean komatiite and associated TTG; and (4) Integrating multi-isotope systems for direct dating of oil generation and charge in key oil-rich basins in Australia and China.
In his Future Fellowship project, he will test a provocative and potentially ground-breaking hypothesis that links fluid cycling, large-scale intra-continental magmatism, volcanic volatile flux, climate changes, mantle chemical geodynamics, plate tectonics, and slab stagnation in a self-consistent geodynamic system. This research will integrate geochemistry, petrology, geophysics, global tectonics and thermodynamical modelling to reach a new level of understanding of fluid cycling and Earth's dynamics through time. The outcomes will fill the knowledge gap of how fluids work in the Earth's system, and will help us to understand how deep-Earth's geodynamic processes influence paleoclimate changes. This work will also help us to identify ways to improve future mineral exploration success. See Research Highlights.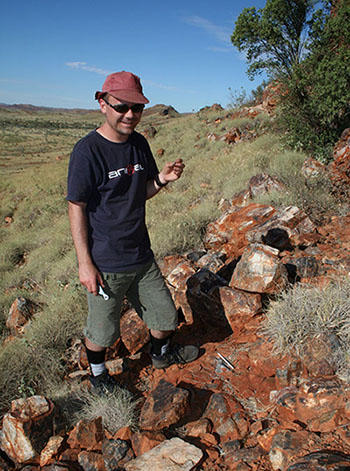 Dr David Wacey is a geologist and palaeobiologist who combines geological fieldwork, high spatial resolution morphological studies and geochemical analysis to investigate fossil life in the Precambrian rock record. He obtained his BA in Earth Sciences from Oxford University in 1998 and remained at Oxford for his PhD (awarded 2004) and first postdoctoral position (2005-2008). In 2008, he won a three-year University Research Fellowship at the University of Western Australia. In 2011-2012, David spent time working at the University of Bergen, Norway, before returning to UWA as part of the ARC CCFS. David will take up his Future Fellowship from June 2015.
In his Future Fellowship project, David will aim to provide new insights into the origin of life on Earth, life's diversification through the Precambrian, and the co-evolution of life and early Earth environments. The project will be unique in that it will take the study of early life to the sub-micrometre and hence sub-cellular level. This will facilitate new opportunities for identifying the types of life present during early Earth history, their metabolisms, cellular chemistry and interactions with their environment. It will also provide new search engines and more robust assessment criteria for life on other planets, and help to resolve specific scientific controversies, for example, the validity of claims for cellular life from 3.5 billion-year-old rocks. Finally, it will also refine new nano-scale analytical techniques that can be applied across academic disciplines and in industrial and environmental problem solving.
EARLY CAREER RESEARCHERS (ECR)
The second primary goal of CCFS concerns the recruitment, development and mentoring of Early Career Research (ECR) staff "for the development of the next generation of Australia's geoscientists".
The following profiles present 2014 ECRs and summarise their expertise and research areas.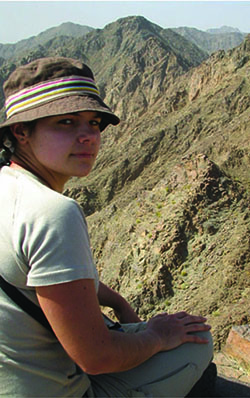 New 2014
Dr Bénédicte Abily joined CCFS in 2014 as a research associate in the CCFS ECSTAR program. Previously, she was a postdoctoral researcher at the French National Centre for Scientific Research (CNRS) carrying out her research in the Géosciences Environnement Toulouse (GET) laboratory, France. Prior to this, she completed her BSc at the University of Brest, France in 2005, her MSc at the University of Clermont-Ferrand, France in 2007 and her PhD on the "Characteristics petrographic, geochemical and structural deep crustal section of the Oman ophiolite: Implications for magma genesis and operation of magma chambers at the base of a center oceanic expansion" at the Université Paul Sabatier in Toulouse, France in 2011.
The goal of her research at CCFS is to better understand the migration of fluids (magma, seawater, hydrothermal fluid) and the interplay between magmatic, metasomatic and tectonic processes in the lithosphere at mid-ocean ridges. To achieve this she will carry out detailed petrographic observations and various geochemical analyses (major, trace and rare-earth elements, radiogenic isotopes) on crustal and mantle rocks collected from present-day mid-ocean ridges and exposed fossil oceanic ridges (ophiolites), especially the Oman ophiolite (Sultanate of Oman). In this framework, she had the opportunity to participate in a two-month international drilling expedition in the Pacific Ocean (IODP Expedition 335).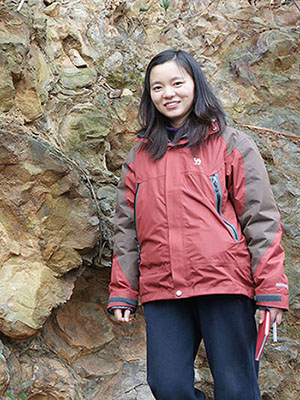 Dr Weihua Yao completed her BSc and MSc with a Petroleum Geology major at China University of Geosciences (Wuhan).
After working in the Chinese oil industry for a year as a petroleum geologist, she commenced her PhD study at Curtin University in 2010, investigating the tectonostratigraphic evolution of the Ediacaran-Silurian Nanhua Basin and the nature of the lower Paleozoic Wuyi-Yunkai orogeny in South China in relation to the assembly of Gondwanaland. The results of her research suggest an Ediacaran-Cambrian collision between South China and northern India, leading to the formation of the Ediacaran-Silurian Nanhua foreland basin and the Wuyi-Yunkai intraplate orogeny. Her work, completed in early 2014, led to the publication of four papers and more are in the pipeline.
Weihua commenced her employment at Curtin University in 2014 as a Research Associate with TIGeR and CCFS. Her current research, as a part of CCFS Flagship Program 5, focuses on the examination of Ediacaran-Silurian paleogeographic connections between the Indian-Australian margin of Gondwanaland and Asian continents/terranes, including the South China and Indochina blocks. See Research Highlights.
Continuing
Dr Leon Bagas completed his PhD at UWA in 2010 on the Evolution and tectonic setting of the Paleoproterozoic Granites-Tanami Orogen, Western Australia. He joined the CET in 2010, where he is leading studies of the tectonic evolution and economic geology of the North Australian Craton, Man Craton of Liberia (with the Liberian Geological Survey), North China Craton (with the Chinese Institute of Mineral Resources) and the Thrym Complex of southeastern Greenland (with the Geological Survey of Denmark and Greenland). These studies address the problem of deciphering the genesis of mineralisation through the lithosphere utilising detailed outcrop mapping, structural geology, geochemistry, isotope geochemistry, and geochronology. Leon has been collaborating with CCFS since 2011 through supervision of Honours and PhD students in Greenland.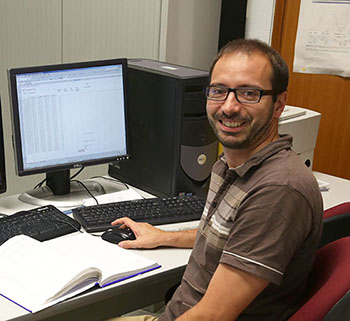 Dr Yoann Gréau joined GEMOC in 2007 as a PhD candidate (graduated 2011) after obtaining an MSc from the University of Montpellier II (France), where he trained in ultramafic petrology and geochemistry, studying ultra-refractory abyssal peridotites. During his PhD studies, he investigated the origin and history of eclogite xenoliths brought up from the lithosphere-asthenosphere boundary by kimberlitic magmas. His research focused on the petrology and geochemistry of the sulfide phases, looking at siderophile and chalcophile elements (e.g. Cu, Ni, Se, Te, PGEs and S isotopes). He also investigated the relationships between microstructures and mineral geochemistry (e.g. REE, HFSE, LILE and O isotopes) of the main silicate phases, demonstrating strong links between mantle eclogites and metasomatic processes occurring within the sub-continental lithospheric mantle.
Since 2013 Yoann has co-managed the TerraneChron® team in CCFS. TerraneChron® uses a specifically developed methodology to study the evolution of the continental crust through time by using integrated in situ analysis of zircons for U-Pb ages and O- and Hf-isotope composition. The methodology, developed at Macquarie University, has had great success with our industrial and geological survey partners; it provides the partners with information useful in their mapping and exploration programs, and gives the team valuable data for large-scale research. In 2014, TerraneChron® imaged and analysed 3605 grains of zircons for a total of 17 different projects from different regions of 4 continents.
Dr Dan Howell is a postdoctoral research associate in CCFS working on the growth, structure and origins of diamonds, a unique recorder of mantle fluid activity. By studying fluid and mineral inclusions trapped within them, this robust capsule mineral can provide direct samples from the depths of the Earth. He is also investigating the similarity of pink diamonds from Argyle (Australia) to those found in Santa Elena (Venezuela), as well as reporting a new finding in southern Africa. His research is also contributing to the TARDIS program by documenting the characteristics of diamonds found in Tibetan ophiolites, and understanding their formation conditions in this new environment for diamond occurrences.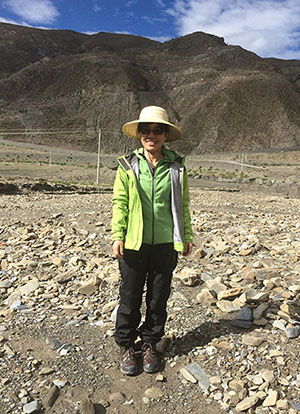 Dr Jin-Xiang Huang completed her undergraduate study at China University of Geosciences, Beijing as one of the top students in her class. She received her PhD from Macquarie University, in December 2011 studying metasomatism and origins of xenolithic eclogites from the Roberts Victor kimberlite, South Africa. This provided her with extensive experience in the clean labs, on state-of-art instruments producing precise geochemical data, and integrating a wide range of information into a coherent model. She discovered that mantle metasomatism has completely changed the petrography and chemical and isotopic compositions of most eclogites, therefore, evidence from these can no longer be used to support the popular idea that they represent subducted oceanic crust. Information from primary eclogites favours their origin from deep-seated magmas. After completing her PhD, she joined CCFS as a post-doctoral research associate, to work on the stable isotopes and water contents of mantle rocks (both eclogites and peridotites) and in different mantle processes (e.g. magma crystallisation, mantle metasomatism). This will provide a better understanding of mantle processes and further constraints on geodynamics.
In 2014, she developed high-Cr garnet standards for in situ oxygen-isotope analysis by SIMS. She also measured the water content of well-characterised Roberts Victor eclogites and found that eclogite-rich horizons near the base of the lithospheric mantle can represent a significant, previously unrecognised reservoir of water. This work contributes to our understanding of the global water cycle, metasomatic processes and the generation of melts near the base of the lithospheric mantle.
Dr Marek Locmelis is a Research Assistant Professor in the CET working on the CCFS Foundation Program "Metal sources and transport mechanisms in the deep lithosphere".
In 2014, Marek continued his research on the processes that lead to mass transfer of fluids and metals between the mantle and the crust. His work integrated (i) a series of hydrous high-pressure and high-temperature experiments to investigate the capacity of near-solidus melts and fluids to transport metals at lithospheric mantle-asthenospheric conditions, with (ii) the analysis of rock samples collected from the Ivrea-Verbano Zone (IVZ) in northwest Italy. This exhumed section of the critical crust-mantle interface shows tantalising relationships between ultramafic fluid-rich rocks and metal-rich sulfide mineralisation, making the Ivrea-Verbano Zone an excellent natural laboratory to test and parameterise the high P/T experiments.
In mid 2014 Merek left CCFS to take up a position at NASA in the Solar System Exploration Division.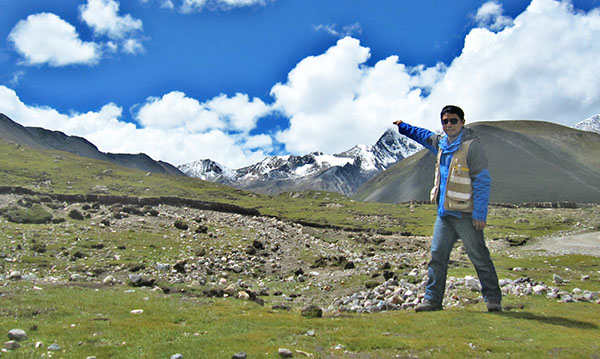 Dr Yongjun Lu is a Research Assistant Professor funded by CCFS. He is undertaking the CCFS Foundation Program, "4D lithospheric evolution and controls on mineral system distribution: The Western Superior-Yilgarn comparison". He has been supervising PhD student Katarina Bjorkman since 2013, who is studying the 4D crust-mantle evolution of the 3.0 Ga Marmion Terrane as part of the Foundation Program. Yongjun has ongoing collaboration with Chinese Academy of Geological Sciences on the investigation of Tibetan porphyry systems, which has resulted in publications in high-impact journals such as Geology and Journal of Petrology. Yongjun is also leading a Rio Tinto-funded project titled "The mineral chemistry of zircon as a pathfinder for magmatic-hydrothermal copper and gold systems", in keeping with the vision of CCFS to deliver the fundamental science needed to sustain Australia's resource base. Yongjun was invited in 2014 to be the Associate Editor for SEG 2016 special publication on Tethys volume and to be a keynote speaker in the SEG 2016 conference in Turkey. He is Deputy Theme Leader for the Magmatic Mineral Systems theme at CET and member of the Geoconferences Main Committee and the Strategic Planning and Implementation subcommittee of Geoconferences. He also serves as reviewer for international journals such as Journal of Petrology, Chemical Geology, Economic Geology, Lithos, Gondwana Research, Mineralium Deposita and Ore Geology Reviews. See Research Highlights.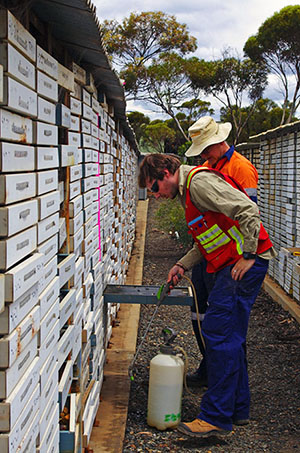 Dr David Mole completed his PhD at the Centre for Exploration Targeting at the University of Western Australia (2012), investigating the effects of lithospheric evolution on the localisation of major komatiite flow-fields, and associated Ni-Cu-PGE mineralisation. He also has a Masters degree in Geology from University College London (UCL) in the UK.
David joined Curtin as an industry-sponsored Research Associate investigating the multi-scale 4D evolution of the Proterozoic Ntaka Hill Ultramafic Complex in the Mozambique Belt of south-east Tanzania. The project is sponsored by IMX Resources and affiliated with the Centre for Exploration Targeting, UWA.
David's expertise primarily lies in using isotope geochemistry (particularly Sm-Nd and Lu-Hf isotopes) and U-Pb geochronology to understand the 4D evolution of crustal terranes. He is also interested in the application of this 4D lithospheric understanding to the evolution of multiple geological systems within a given terrane, such as structural regimes, volcanism, sedimentary facies and mineral systems. David is particularly interested in the evolution of the primordial Earth (Hadean-Archean) and how different Earth systems such as the surface (atmosphere, oceans, crust) and internal (core-mantle) environments were affected by major temporal changes in geodynamics and crustal evolution.
In mid 2014, David moved to CSIRO as an OCE Postdoctoral Fellow. He continues his close association with CCFS through his contribution to the Pilot Project, "The isotopic architecture of komatiite flow fields in the Yilgarn Craton of Western Australia" which aims to map mantle source, crustal ages and magma-lithosphere interactions using multiple isotopic systems in komatiites from the Yilgarn Craton of Western Australia.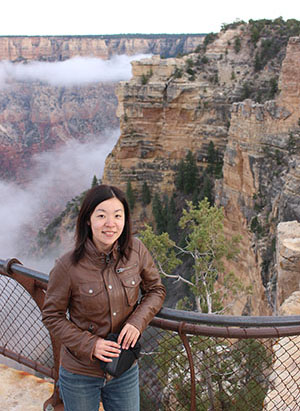 Dr Takako Satsukawa joined CCFS/GEMOC in October 2012 as an ECSTAR (Early-Career Start-up Award Researcher) funded by an ARC Centre special grant to CCFS for early-career researchers. She completed her PhD jointly at Shizuoka University (Japan) and the Université Montpellier (France). Her dissertation research focused on microstructural and petrological characteristics of mantle-derived peridotite xenoliths in basaltic rocks and their implications for the evolution and seismic anisotropy of the uppermost mantle beneath the back-arc region. She mastered the application of Electron Backscatter Diffraction (EBSD) technology to measure the crystallographic preferred orientations (CPO) of individual grains of minerals. Her current research interests include the rheology of the uppermost mantle and the history of the roots of ancient continents to provide new constraints on the rheological properties of the lithospheric mantle.
Her research interests also lie in developing a systematic approach to mapping the behaviour of melts and fluids in the upper mantle. Takako approaches this by combining microstructural analysis, geochemical analyses, analysis of water contents, and numerical modelling of the seismic properties of peridotite xenoliths and chromitite from different lithospheric levels which have experienced different degrees of melt-fluid-rock interaction. Since previous work by GEMOC has used geochemical analysis, a new methodology for mapping 'hidden' microstructures can be developed by combining these approaches.
In 2014, she characterised the microstructure of mantle-derived rocks from the southwest Japan arc to investigate the uppermost mantle evolution during back-arc spreading. She also investigated fluid-present deformation preserved in chromitite from Golyamo Kamenyane, southeast Bulgaria. She presented her work at the 6th Orogenic Lherzolite Conference in Marrakech (Morocco), the American Geophysical Union Fall Meeting 2014 in San Francisco (USA), and 2014 Annual Meeting of Japan Association of Mineralogical Sciences in Kumamoto (Japan). This project is part of CCFS Themes 2 and 3, Earth Evolution, and Earth Today. See Research Highlights.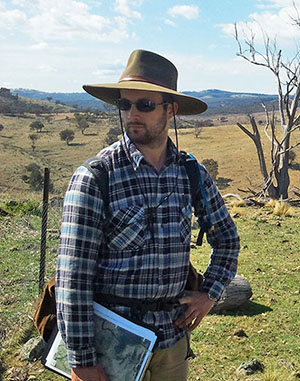 Dr Edward Saunders completed his PhD with CCFS/GEMOC in 2013. His thesis investigated the petrography and geochemistry of sulfides hosted in mantle peridotites and pyroxenites, with an emphasis on their gold concentration. This research increases our understanding the nature, abundance and mobility of Au in the lithospheric mantle, as well as sulfide metasomatism more generally. This has important implications for understanding the fluid flux within lithospheric mantle.
In 2014, Ed commenced employment at Macquarie University as a lecturer and is an early career researcher in CCFS.
He has been expanding on the research that he started during his PhD investigating the mobility of chalcophile elements in the mantle, and the role these processes might have in ore deposit genesis. This has included using data collected during his PhD to create quantitative geochemical models to explore how gold behaves during mantle melting.
Dr Zoja Vukmanovic joined Curtin University after completing her PhD at UWA studying the microstructure of magmatic sulfides from the Bushveld Complex, South Africa and komatiite hosted Ni deposits from Western Australia. Before this, she received her Masters degree from the Free University, Amsterdam, Netherlands.
As a research associate, she investigated the nature and exhumation of the La Balma Monte Capio intrusion in Italy's Ivrea-Verbano Zone from a geochemical and microstructural perspective, in order to constrain the interaction between deformation and fluid flow. She examined the relationship between intragrain and intergrain deformation processes and chemical reactions associated with hydration of the mantle, with the goal of improving our understanding of the role of metasomatic fluids at lithospheric conditions on Ni-Cu-(PGE) sulfide mineralisation. Zoja's research interests are focused on ultramafic and mafic systems and associated ore minerals. Her expertise lies in high-precision in situ mineral chemistry (EMPA and LA-ICP-MS) and rock microstructures (EBSD). She also uses 3D imaging (X-ray computed tomography) in order to better understand problems such as trace element remobilisation, metal endowment and post-crystallisation deformation.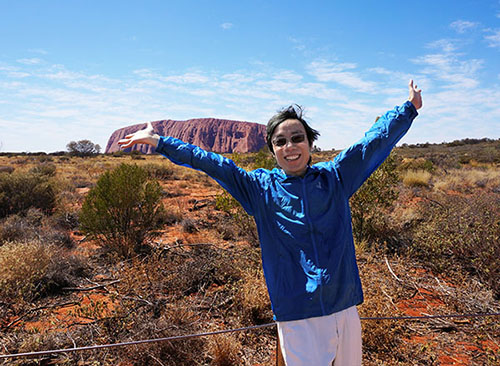 Dr Siqi Zhang (pictured below) completed his undergraduate study at Peking University, Beijing, and graduated with a PhD from the University of the Chinese Academy of Science (July 2011). He then took up a postdoctoral fellowship at University of Chinese Academy of Science from 2011 to 2013. His research focuses on using high-performance computation with high resolution models to solve different geodynamic problems.
He joined CCFS as a postdoctoral research associate in April 2013. Since then his research has been focused on using high resolution mantle flow models to study the evolution of Earth and other terrestrial planets. He built mantle-core coupling models to study the early evolution of Mars. By exploring a range of uncertainties with different model settings, the results suggest that mobile-lid may exist in early Martian history, and it is the likely cause of an early dynamo. He is also exploring the construction of an Earth mantle-flow model constrained by the plate motion in the past few hundred million years to recover the mantle structure and to track its evolution over that time. In addition, he is developing new treatments of magmatism in global mantle flow models, making it possible to also recover melting history. Recently, he has become involved in improving high performance SPH (smoothed particle hydrodynamics) code using Intel Xeon Phi co-processors to study the formation of the moon. See Research Highlights.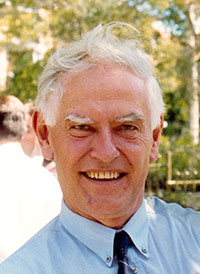 VALE - STIRLING EDWARD SHAW 25/3/33 - 12/12/13
Stirling completed his honours degree in geology at UWA in 1959 and in his third year was awarded the Edward de Courcy Clarke Prize in Geology and the Edward Sydney Simpson Prize (shared with Ian Martin).
In 1960 Stirling accepted a demonstrators position at the University of New England and by 1964 had completed a PhD on the granitic rocks of the Tenterfield area in northern NSW. His mapping of over 2000 sq km detailed a large number of granitic units as well as recognising the Demon Fault and its right lateral displacement of about 30 km. The results of the mapping were published in the Geology of NSW (1969). To generate the geochemical data for his thesis he first had to establish a geochemical laboratory in the Geology Department to analyse his rocks and minerals. This effort produced a thesis with a wealth of geochemical data.
A short while after completing his PhD, Stirling took up a lectureship with the University of NSW at their Broken Hill College. He was the only geologist and taught the full breadth of subjects. With funding from the Mine Managers Association he also conducted research on both the mine sequence rocks and the granites further north at Tibooburra.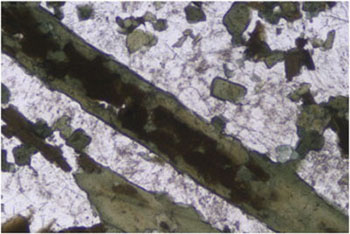 In 1966 Stirling accepted a position at Macquarie University where it is believed he was the first non-professorial academic appointment. He always taught with infectious enthusiasm and the Department still has many of the teaching samples Stirling collected for these first classes.
In his research, Stirling recognised the value of XRF instruments for rock analysis and was able to purchase a Siemens XRF in the first year of his appointment at Macquarie. A little later he automated the XRF by building the interface to a small computer that also computed the results. This was the first major step in the development of the geochemical facilities at Macquarie. A few years later he obtained funding for the purchase of an ETEC electron microprobe/scanner which gave Macquarie the state-of-the-art facilities needed to analyse minerals as well as rocks. Most importantly, Stirling kept all this equipment going with little outside assistance. This early foresight and tremendous personal effort laid the foundations of the present Geochemical Analysis Unit, one of the best such facilities in Australia. Just before he retired he went to Newfoundland to arrange the purchase of the first of the laser analysis systems that are now the key to much of what is done in the Geochemical Analysis Unit. The important part of his enormous contribution was that what he did, he did for everyone.
Stirling's research output of fifty papers and a similar number of abstracts cover a broad range of research but the majority involve geochemical and isotopic studies, especially related to granitic rocks. His publications include a significant number on the New England region, the northern parts of the Lachlan Fold Belt and the Sydney Basin. He has also produced important papers with colleagues in the USGS on the granitic rocks of southern California including one of two CCFS papers published in 2014 (CCFS#205 and 435).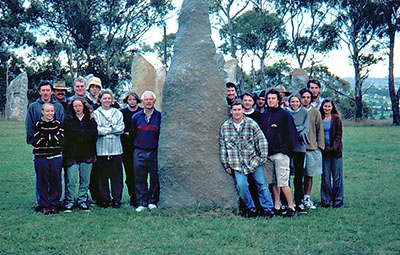 Stirling Shaw was a great ambassador for Earth Sciences and Macquarie University and a man of the highest honour. He was always totally straight forward, hard working, the best-mannered person you would ever meet, a fantastic family man and a great colleague. He led by example and was the first to roll up his sleeves. He will be remembered for having made vital and lasting contributions to Macquarie University and our understanding of the geology of eastern Australia.